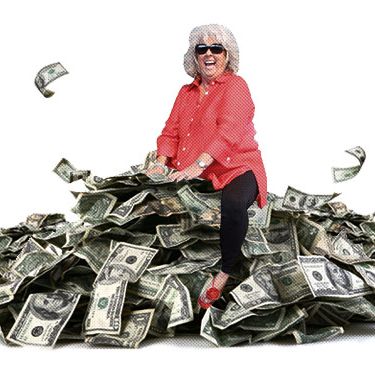 Photo: Illustration by Andrei Kallaur and Jen Cotton
How much money does a successful celebrity chef like Paula Deen, the butter-loving Southern belle who climbed to the top of the celebrity chef pile, really make? With all of those television shows, cookbooks, and restaurants, it adds up to quite a bit. Add in some seriously lucrative licensing deals — Paula Deen ham, Paula Deen furniture, Paula Deen eyeglasses — and six-figure appearance fees, and you'll see that behind Deen's homespun "y'all come back now" charm lies a seriously savvy businesswomen.
Deen's team didn't return our requests for comment, so our financial researcher scoured published accounts and talked to agents, marketing strategists, and publishing experts for informed information about Deen's empire, as well as her total revenue for 2010. We've crunched the numbers to arrive at some eye-popping totals that prove the only thing higher than the calorie count in a Paula Deen recipe is the amount of money that Paula Deen Enterprises brings in.
Check out the full breakdown: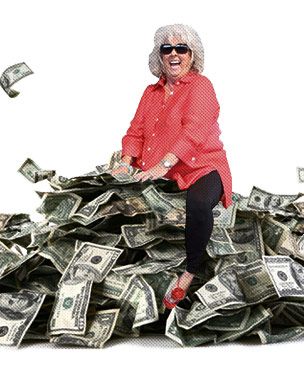 Check out the full breakdown:

Illustration: Andrei Kallaur, Jen Cotton
Television Shows
Deen's shows are fundamental to her brand, but they aren't her biggest cash cows. She reportedly makes between $10,000 and $20,000 for each episode of her shows, which in 2010 included a 21-episode run of Paula's Best Dishes, and a producing gig on Down Home with the Neelys.
Estimated 2010 revenue: $620,000
Restaurants
Like her television shows, Paula's restaurants are essential to her image, but they're not her biggest moneymakers. Her Savannah-area restaurants The Lady and Sons and Uncle Bubba's Oyster House each bring in revenues of $100,000 to $200,000 a year. (The deal she made to license her name for restaurants in Harrah's casinos — a Paula Deen's Kitchen and two Paula Deen Buffet locations — netted her a onetime sum, but it doesn't appear to have contributed to her bottom line in 2010.)
Estimated 2010 revenue: $300,000
Books
Deen has ten best-selling cookbooks and a memoir, and according to BookScan they collectively sold a total of 97,000 copies in 2010 (her total lifetime book sales total about 4.5 million).
Estimated 2010 revenue: $120,000
Magazines:
Deen signed a two-year, six-figure deal with Hoffman Media in 2005 for Cooking With Paula Deen. A person familiar with these arrangements says the initial deal was worth an upfront payment of $300,000 to $500,00, plus 3 to 5 percent of total revenue. When she re-upped the deal, the price jumped to $750,000 plus 5 to 6 percent of revenue.
Estimated 2010 revenue: $300,000
Licensing and Endorsements
This is where Deen starts to make the really big, butter-soaked bucks. A former agent tells us that almost all of Deen's deals are structured so that she gets an upfront payment in the low-to-mid-six figures, plus a percentage of total sales. The list is long, and the money adds up fast:
• Kaleen Rugs ($25,000 to $50,000 estimated in 2010)
• Deen-branded mattresses from Serta ($200,000 estimated in 2010)
• QVC ($500,000 estimated in 2010)
• Eyeglasses at Wal-Mart ($350,000 estimated since April, 2011)
• Dessert line at Wal-Mart ($400,000 estimated in 2010)
• B. Lloyd's Nuts ($100,000 estimated in 2010)
• GoBo seafood ($600,000 total estimated revenue)
Then there's Deen's endorsement deal with Smithfield Foods, which began in 2007 and includes items like Paula Deen's Ham Sausage and Paula's Pumpkin Gooey Cake. A former agent tells us that Deen received a payment in the upper six-figures when she signed the deal, and agreed to take a lower percentage of sales than her other deals. However, she also gets bonuses for selling products through QVC, the Smithfield Hams store, and other outlets. It's estimated that the Smithfield deal alone netted Paula between $800,000 and $900,000 in 2010.
Estimated 2010 revenue: $3 million
Speaking Fees
This is another major revenue stream for Deen. Big-name food personalities like Paula can make between $75,000 and $100,000 for appearances at events like the South Beach Food & Wine Festival, and one talent agent tells us that in 2010, that added up to a huge chunk of change for Deen.
Estimated 2010 revenue: $5.5 million
Retail Sales
Deen's website and her Savannah retail store sell branded items like baking supplies, books, and collectibles (not to mention butter-flavored lip balm), and it's estimated that Deen's retail ventures bring in between $50,000 and $75,000 each year.
Eestimated revenue in 2010: $60,000
Rental Properties
The revenue figure is too small to include in her overall earnings, but it's worth mentioning that Deen also owns the Y'all Come Inn beach rental property on Tybee Island, Georgia, off the coast of Savannah. A week there costs visitors between $2,000 and $3,000.
More "Feeding Tube":
Ten Important Moments in Food-TV Recipe History
The Feeding Tube: Five Cooking-Competition Bad Guys Tell Us Why They're Just Misunderstood
Anthony Bourdain Tells Grub Street About the Food Shows He Actually Likes
Jonah Hill Totally Dissed Paula Deen on TV
How Food Television Changed the Way We Eat
Eleven Real Secrets Behind TV Food Styling
How Many Cooks (and Fridges, and Researchers) Does It Take to Run Food Network Kitchens?