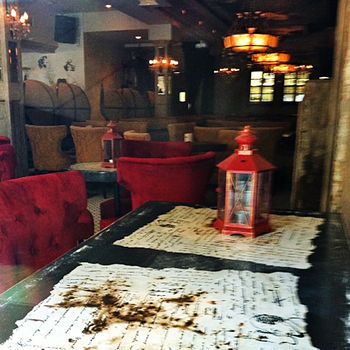 Onegin's interior looks nearly done.
Photo: Edna Ishayik
The brown paper has been taken off the windows at Onegin (pronounced "on again") on Sixth Avenue, and the restaurant is preparing for an opening later this month. However, there's one amendment to the record: The spot was said to be a spinoff of Coney Island's Rasputin, but not so says co-owner Jacob Rivkin. Though two members of the team were former employees, the new venture is not affiliated with the famous Russian restaurant.
The decor offers a mix of antique-y touches (brocades, tufted chairs, and mini-chandeliers abound) and some new-fangled elements: black-and-white text murals and a birch tree "forest," along with tile floors from the Pizzeria Uno that once occupied the space.
Menu-wise, the idea is to approximate what was eaten in early nineteen-century Russia. "There was not a lot of frying going on back then," says Rivkin. So, coming out of the traditional Russian oven and the adjacent smoker will be more than the typical blinis caviar service (though they'll offer that, too). On the pork front, we're looking at homemade kielbasas, bacon, and suckling pig. But the big reveal will be a house-cured pork belly called salo. Pates and spreads will occupy a sizable portion of the menu under the banner of zakouski — basically Russian pupu platters. There will be duck liver with dried fruit, sturgeon, and a spread made of that pork belly ground down with garlic.
Onegin, 391 Sixth Avenue, nr. Waverly Pl.