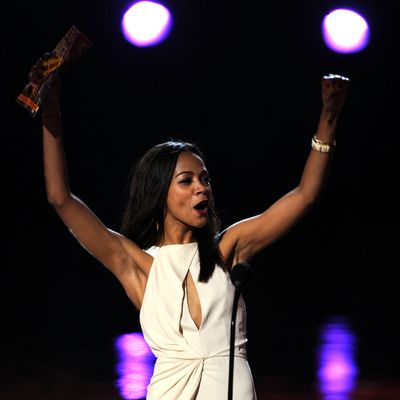 Saldana raises the roof.
Photo: Kevin Winter/Getty Images
Food is the best fuel for the most random activities. Case in point: George Clooney got hungry and stole away from his after-party for The Descendants to rendezvous with girlfriend Stacy Kiebler at the Stone Rose Lounge. After dining with family, Zoe Saldana, hit the dance (floor) roof. Also, anyone up for a four-hour film chat over seafood with Oliver Stone? This and more celebrity settings, below.
Atlantic Grill: Seafood wasn't the only thing on Oliver Stone's mind Saturday night — and definitely not four hours of it. A post–New York Film Festival discussion on late critic Pauline Kael between the acclaimed film director, James Toback, and Roger Corman, continued through 2 a.m. Sunday, at least until another critic, Camille Paglia, joined in the chat. [Page Six/NYP]
Catch: On Monday, Zoe Saldana visited the restaurant with her mother, grandmother, and sister. Afterwards, she hit the rooftop and danced with Selita Ebanks, Estelle, Eve, and Anthony Mackie to — fittingly, Eve's "Tambourine." [Page Six/NYP]
Marble Lane: Chad Michael Murray went Dutch with three friends on a plate of mixed greens and tomato bisque soup. Murray washed it down with Stoli and Red Bull; his friends sipped Linda's Lemonade. [Grub Street]
Stone Rose Lounge: George Clooney's hunger for love led him to sneak out of the official after-party for his latest film, The Descendants. He was reportedly charming his co-stars (including Matthew Lillard and Beau Bridges) and watching his phone while awaiting girlfriend Stacy Kiebler's arrival. Maybe Clooney was ordering on GrubHub? [Page Six/NYP]
STK: NBA star Kris Humphries enjoyed a guys night out on a friend's birthday. He ordered rib-eye steak with lobster and macaroni and cheese. [Grub Street]