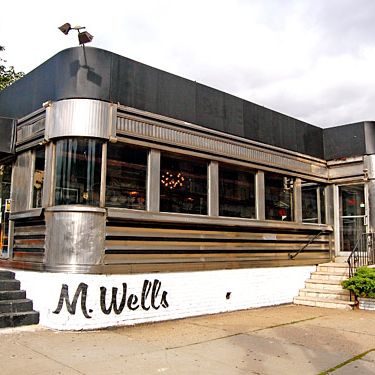 Coming to a city near you.
Photo: Patrick Siggins
M. Wells speaks from beyond the grave! A month and a half after the Quebecois diner's demise, Grub received an e-mail telling us Hugue Dufour and Sarah Obraitis are taking their is-this-a-restaurant-or-just-dinner-at-my-really-hip-friend's-house? show on the road. This weekend, the couple will land at Montreal's Grumman 78 headquarters, where they'll host a "hockey night" on Saturday from 6 p.m. onward ($60), and a Sunday "lazy brunch" with an à la carte menu, from 2 to 8 p.m. On the 24th and 25th, they'll hit Gato Bizco in Atlanta to serve à la carte dinner from 6 to 11 p.m. both nights. E-mail write@mwellsdiner.com to reserve.