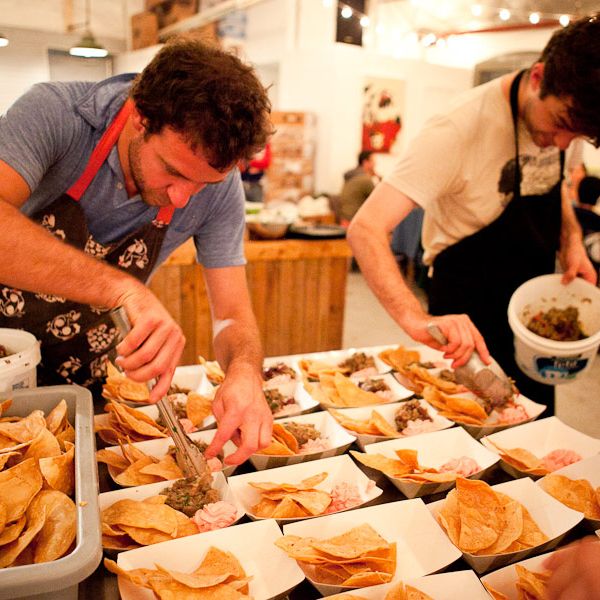 Hugue Dufour, at work in Montreal last weekend.
Photo: Huge Galdones
It sounds like that tour of P.S. 1 last August went well for former M. Wells owners Hugue Dufour and Sarah Obraitis. Dufour tells Canoe (in French) that M. Wells will in fact partner with MoMA P.S. 1 starting next January. In what sounds a bit like a chef's counter concept, Dufour says M. Wells will operate the cafeteria at the museum and turn it into a classroom, with diners facing the cooks at work inside the open kitchen. The restaurant will develop a menu relying more on sous-vide cooking, and meals will be served in Bento boxes. Dufour tells Canoe it will be "completely different experience than M. Wells, even if we keep certain classics."

The article makes no mention of the duo finding a new commercial space in Long Island City to replace its old diner digs, but there's good news for those of you who guessed M. Wells would eventually end up inside a rebuilt Napoleonic War–era frigate, noodling around the world and spreading pop-up restaurant love everywhere in its path — you were half-right!
Dufour says there are, in fact, plans to put M. Wells on a boat, but it will be a Polynesian-style catamaran: Joining recently Captain Stubing–ized food folk like Jean-Georges Vongerichten and the Mast Brothers, Dufour says that three years from now he hopes to install Mr. Wells into the hull of a 62-foot wooden catamaran. "The idea is to build the boat in a large hangar," he told Canoe, revealing some details about what sounds like a M. Wells 3.0 concept, "where people could come and eat around the boat at various stages of construction." The plan after that would be for this hypothetical S.S. M. Wells to sail up and down the East Coast and Caribbean, setting up pop-up restaurants at every port. Fried brains for everyone!
Hugue Dufour, du Lac à la grosse pomme [Canoe/Le Journal de Montréal]
Earlier: M. Wells Relocation Plans Are Starting to Take Shape
Related: M. Wells Headed to Montreal, Atlanta