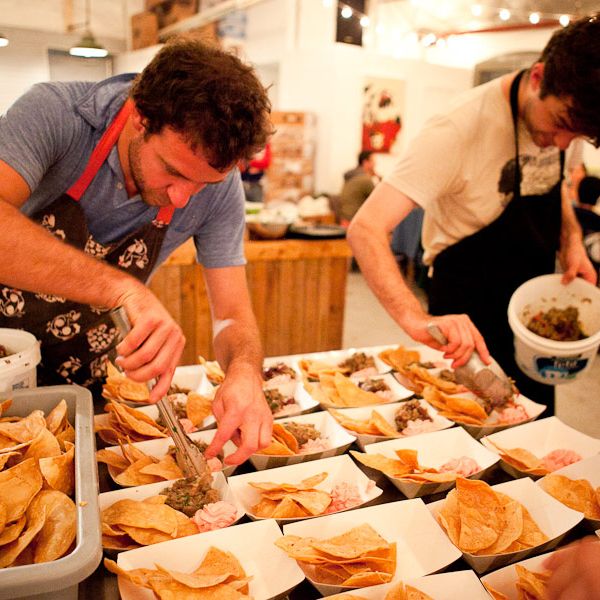 Chef Hugue Dufour plates a dish.
Photo: Eugene (Huge) Galdones/Huge Galdones/Galdones Photography 2011
As we told you they would be, Hugue Dufour, Sarah Obraitis, and the rest of the M. Wells team were in Quebec over the weekend, throwing a hockey night feast with Montreal Mexican food truck specialists Grumman '78 at the latter's HQ. Why collaborate with a food truck? Marc-André Leclerc and Gaelle Cerf, two of Grumman's owners, worked as chef de cuisine and general manager, respectively, at Montreal's celebrated Au Pied de Cochon, where chef Dufour once served as sous chef. Photographer Huge Galdones was at the event and sent along some shots, and from the look of things, the menu was as all-over-the-place as the one at M. Wells used to be. Among the selections: salmon crudo, tripe soup, buffalo chicken, smoked mussels, and a tamale that Galdones told us "tasted like Thanksgiving." Sounds eclectic! It all just makes us wonder where and when M. Wells will be making its triumphant return to Long Island City.
Earlier: M. Wells Headed to Montreal, Atlanta