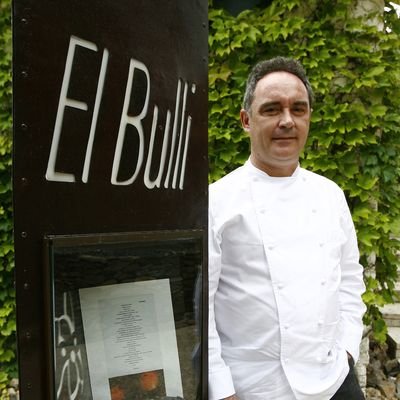 Gone, but not forgotten.
Photo: LLUIS GENE/AFP/Getty Images
Turns out that Ferran Adrià's dinner at Next was a test — and Grant Achatz passed it. Christopher Borrelli reports at the Tribune that a few days after the legendary Spanish chef dined at Next, he not only gave Achatz his blessing to offer that El Bulli tribute menu he's been talking about beginning in January, but Adrià said he would send his own chef de cuisine and dining room managers to Chicago to collaborate on the menu. (El Bulli–inspired snacks will also be available at the Aviary, since of course the menu will be so popular no one will be able to have it; par for the course at Next.) Borrelli has an interview with Adrià that is well worth reading — especially the part about the importance of offering a first-rate staff meal. Given the Achatz crew's well known love of fast food for staff meal, it will be interesting to see how the El Bulli staffers adapt to that ("What ees Potbelly?").
Meanwhile, Grant Achatz tweets a photo of one service piece he'll be using for Next's childhood menu: a vintage Strawberry Shortcake lunchbox. He tells Eater that he has doubts about whether the foreign-tourist-heavy clientele will appreciate the joke. "So if you're coming from Copenhagen, did you have a He-Man lunchbox? Probably not," Achatz says. (Although we'd totally dig it if Noma were to serve something in an Asterix lunchbox.)
It's amusing to think that this is one of the things Achatz and team are focusing their energies on ("Scooby Doo or Jonny Quest, which is it going to be, people?"), but given that eating out of lunchboxes has been a mainstay at places like Kitsch'n on Roscoe for some years, we're trusting that the menu will ultimately delve deeper into the power of childhood memories than that. Achatz used burning oak leaves in an Alinea dish to evoke autumn in Michigan when he was growing up, to considerable emotional effect on patrons, and Heston Blumenthal has several dishes in The Fat Duck Cookbook that also use scents and textures to evoke childhood. That's the kind of magic we're hoping for from this upcoming menu … in a Bobby Sherman lunchbox.
Next up: 2 great chefs to collaborate [Tribune]
Earlier: Grant Achatz Is Going to Just Start Cooking Other Chefs' Food