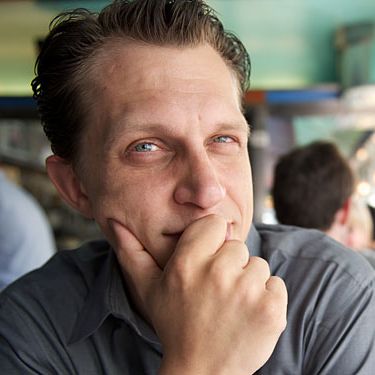 No Bieber fever for him.
Photo: Luke Townsend
Le Bernardin's executive pastry chef Michael Laiskonis has some exquisite taste — and we're not talking about Shoo-Fly Pie. As you've probably heard by now, the chef was unchained from the kitchen this weekend and relinquished to the Grub Street Food Festival, where he D.J.'ed all day, spinning everyone from the Stones to the Misfits without missing a beat.
"Start!," The Jam
"Good Guys (Don't Wear White)," Minor Threat
"Forever for Her (Is Over for Me)," White Stripes
"Savoy Truffle," The Beatles
"Shoot the Singer (One Sick Verse)," Pavement
"She Took All the Money," Frank Black
"Beef Jerky," Cibo Matto
"Floods," Flinflon
"In Between Beat," Happening
"Seed Toss," Superchunk
"Second Skin," The Gits
"See No Evil," Television
"These Days," Barbara Manning
"Get Your Curse," His Name Is Alive
"Fiction," Nathan Larson
"Knock That Door," Enon
"Greenwich Mean Time," Charlotte Gainsbourg
"Waiting for the Man," Velvet Underground
"Society Suckers," Walter Schreifels
"Cut," Minutemen
"She's a Rainbow," Rolling Stones
"Surf Cowboy," Throwing Muses
"Matthew,v Bombadil
"In a Jar," Dinosaur Jr.
"Coolidge," Descendents
"Jumping Fences," Olivia Tremor Control
"Pas Fait en Chocolat," Tricot Machine
"Westside," Angst That Dog
"Teenage FBI," Guided By Voices
"Incense and Peppermints," Strawberry Alarm Clock
"Penpals," Sloan
"Pacific 231," Burning Airlines
"New Rose," The Damned
"Lost in the Supermarket," The Clash
"Uncomplicated," Elvis Costello
"Peaches," Stranglers
"Hybrid Moments," Misfits
"You Said Something," PJ Harvey
"Round-n Round," Lou Barlow
"Bad Town," Operation Ivy
"Lonesome Sundown," Halo Benders
"Kittypants," Shellac
Related: What You Missed at the Grub Street Food Festival 2011