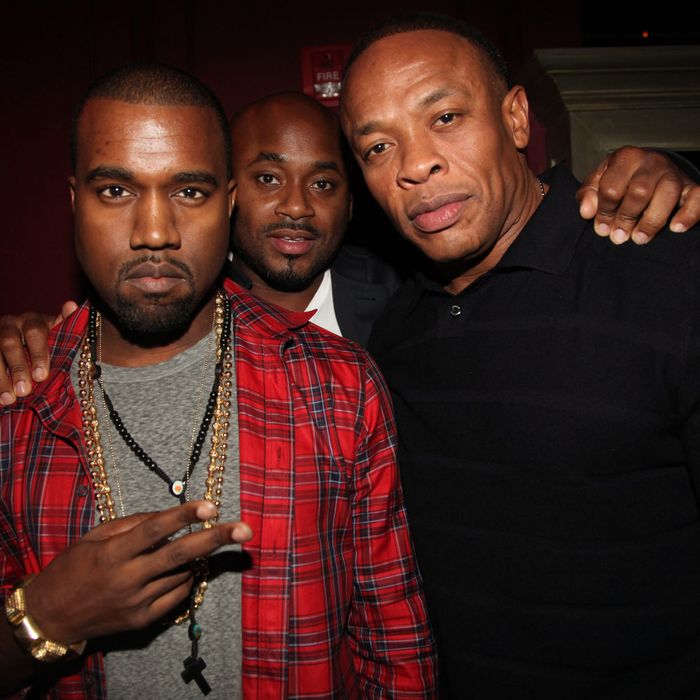 Don't let him get in his zone.
Photo: Johnny Nunez/Getty Images
Sometimes celebrities are so good at publicly playing up their onscreen roles, that you wonder if it's all part of the show. For example, does it come as a surprise to learn that Kanye and Diddy partied all night downing expensive champagne? Or that Snooki and her Jersey Shore paramour celebrated their anniversary at a meatpacking district steakhouse? Then again, we never would have guessed Anderson Cooper would be caught dining alone, or that Jay-Z would save the day at CO-OP when Ne-Yo had to split unexpectedly. But such was the week in celebrity sightings. Lots more where that came from, straight ahead.
Brasserie Beaumarchais: Miss America Teresa Scanlan dined here with Jordan Baltimore. [Page Six/NYP]
Campagnola: Michael J. Fox was spotted outside the Italian restaurant on First Avenue. [Page Six/NYP]
Ciano: Carol Alt compared notes with chef Shea Gallante, getting his take on the raw food recipes she plans to feature in her upcoming cookbook. [Page Six/NYP]
CO-OP Food & Drink: Ne-Yo left in the middle of his performance to support Yellow Fever's menswear line on Wednesday after he received news that his fiancée was in labor. Fans at the Hotel on Rivington were kept at bay when Jay-Z showed up to the event later that night. [Page Six/NYP]
The Darby: Diddy teamed up with Jimmy Iovine to host the CULO by Mazzucco book and art exhibition launch. The man behind the art, Raphael Mazzucco, joined the two for a private dinner prepared specially by Alex Guarnaschelli. Kanye West, Dr. Dre, Big Sean, Maxwell, La La Vasquez, and Russell Simmons arrive for the after party, where the champagne came care of Beau Joie champagne D.J. Kiss provided the music. [Grub Street]
David Burke Kitchen: Julianne Hough and her Footloose costar Kenny Wormald ate dinner here on Wednesday. The pair, plus a few friends, then hit Catch's rooftop bar for an after-party celebrating the film's upcoming premiere, where — as you'd expect — they spent the night tearing up the dance floor. [People]
Fanelli's: Anderson Cooper enjoyed a steak during a solo lunch at this publike café on Tuesday. [Page Six/NYP]
The Four Seasons: Chelsea Clinton joined her father and former Brazilian President Luiz Inácio Lula da Silva for lunch here earlier this week. [Page Six/NYP]
1 Oak: On again? Bradley Cooper and Scarlett Johansson were spotted out together again this week. [Page Six/NYP]
Old Homestead Steakhouse: Following dinner, former Knick Anthony Mason pleased the crowds by signing a few autographs for fans. [Page Six/NYP]
Organic Avenue: Jake Gyllenhaal was spotted slurping an organic smoothie post-workout on Thursday. [US]
Park Avenue Tavern: The SNL after-party brought in Ben Stiller, Foster the People, Bobby Moynihan, and more celebs after Stiller's hosting gig. [Page Six/NYP]
The Peninsula : Russian tenor Nikolai Baskov performed songs off his American debut album to a small crowd of VIPs; among them was PBS's Laura Savini. [Page Six/NYP]
RedFarm: If you happened to be at this West Village hotspot on Thursday, you may have shared a table with Malcolm Gladwell. [NYC Food Guy]
SD26: Matt Dillon was overhead chatting in Italian with Marisa May while he enjoyed a meal at her restaurant. [Page Six/NYP]
The Standard: Adam Horovitz of the Beastie Boys D.J.'ed a benefit for the Ghetto Film School, honoring Joel Klein. Also in attendance were Moneyball producer Rachael Horovitz, Evan Shapiro, and Questlove, to name a few. [Page Six/NYP]
STK: Sure, Jionni forgave Snooki in last week's Jersey Shore, but we're impressed to hear they're still going strong in real life: The pair celebrated their one-year anniversary with a fancy dinner on Monday night. [Grub Street]
Swifty's: Owen Wilson and Sopranos creator David Chase shared a meal at the eternally packed eatery. [Page Six/NYP]