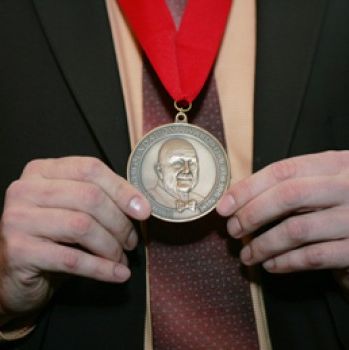 Potentially most irrelevant pic of the day: Brett Anderson's hands.
Photo: Courtesy of The James Beard Foundation
Over Bloody Marys and the November issue of Bon Appétit, Grub Street caught up with some of New York's best chefs on the almost-expired hot topic of having another new critic in town. The latest rumor has it that Brett Anderson of New Orleans could be the guy for the post — a prospect that has some chefs armed and ready, and others oblivious.
First of all, Frankies' Frank Castronovo, whom Sifton recently drooled all over, is really going to miss him. "His last words were, like, Frankies is the best meal he'd ever had in his two years as restaurant reviewer, period, full-stop. That was like Michael Jordan's three-pointer at the buzzer to win the game by one. That was like a 60-yard field goal in the fourth quarter. That was like the slap shot in overtime."
Anita Lo, of course, is purely pragmatic: "Now we have to get a new photo!" Although, she knows nothing about Anderson and personally wanted someone else: "I was voting for Amanda Hesser. I love the way she writes; it's such beautiful romantic writing, it's visceral … I was voting for her, but it sounds like it's not that much of a fun job. I guess she turned it down." Did she?
And then there's John DeLucie, never one to miss a beat, who's set on the gossip fact that Brett Anderson is in: "It's Brett Anderson … I have little people spying to let me know what's going on." Dish it, DeLucie! "He's got sort of salt-and-pepper hair. He apparently wears glasses. That's all we know," he says, laughing. "I have a sea of people scouring the web for pictures of this guy!"
Michael White? He's all whatever. When we asked him about the Anderson scoop, he said, "The first I know is what you just told me. Is he from New York?"
But there's one last revelation in the Anderson speculation. Bon Appétit's Adam Rapoport has had dinner with the mystery man, and says Sir NOLA has one defining trait, "a unique laugh." Interesting. "You'd have to have dinner with him to understand that comment."
Eyes and ears wide open.