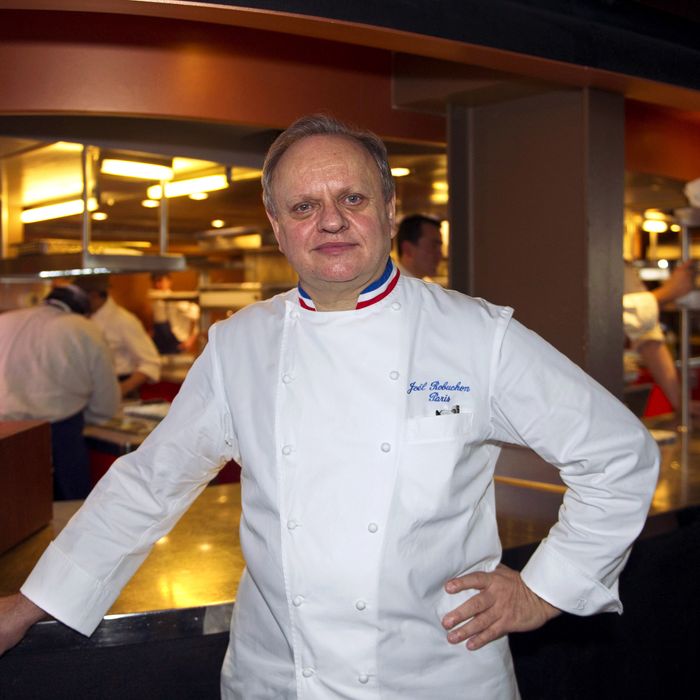 Legendary French chef Joël Robuchon comes to New York twice a year, and his current visit just so happened to coincide with this week's Michelin announcement. (The Guide upped his NYC outpost of L'Atelier de Joël Robuchon from one star to two.) Yesterday afternoon, Grub Street sat down with the chef to talk (through a translator) about what the Guide's reviewers are looking for, his thoughts on the future of food, his recent discovery of the Union Square Greenmarket, and critics who skip out on their bills.
You just got your second Michelin star here. You have 27 in total. Delight? Ho-hum?
Ten years ago, Michelin wouldn't have given this restaurant two stars. They used to judge on the table setting [and formality]. Now they judge the food more. But I appreciate very much that we never know when they come. They are anonymous. [Other critics] sometimes tell you they are there — and then don't pay for their food.
How has the food changed at L'Atelier since you opened it five years ago?
I'm using more aromatic spices and ingredients that have proven good for your health: rosemary, white tea. I don't pretend to be a doctor, and I don't talk about "wellness" at all to the clientele, but I believe that is the future of food.
Is it different cooking for Americans than Europeans?
When a European goes to a restaurant, they show up with their minds already made up. Americans come in almost naive and give their own judgement on the experience. I like that very much.
We heard you were just spotted at the Greenmarket.
I was very surprised to find a countryside-style market in New York City! You hear that in America all the food is processed, in plastic. But I found herbs I didn't know! I was very impressed. The spinach was wonderful, the tomatoes; the Cheddar was very good. I was really surprised by the quality of American cheeses — and we are using more American cheeses.
And you found an ostrich egg there. It was your first?
We cracked it open and cooked it on the teppanyaki, scrambled. The taste was a little strong. It reminded me of a goose egg.
How much did it cost?
I don't know. I was not the one paying.