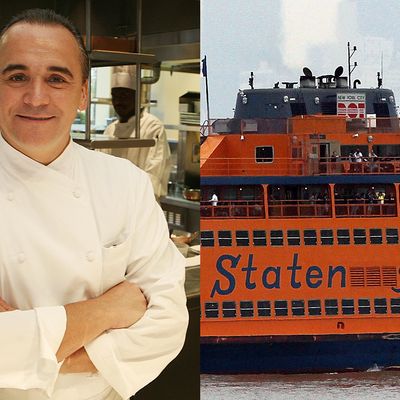 Like a seafood Eataly, but on a boat, with bibs!
Photo: EMMANUEL DUNAND/AFP/Getty Images, Spencer Platt/Getty Images
Nothing is finalized, but Jean-Georges Vongerichten tells Grub Street that his next New York project will likely be aboard the old Staten Island Ferry, a New York fixture that has been out of commission since 2007 and was until recently up for sale on eBay. "A friend of mine bought the Staten Island Ferry and surprised me with this idea. It's a great project. It's not done yet … there [are] still permits and money, so who knows? But it would be a lobster place, really, really simple, you know, with hammers."
"We're looking for a location now, on the water on the west side. It will probably take a couple of years." An impassioned J.G. envisions "newspaper-lined tables" and a really simple menu that includes fried clams and local seafood. The epic boat would remain docked, and there would be more afloat than just the restaurant: Vongerichten says the plans will "definitely" include a huge cocktail lounge and potentially a marine museum. "There's room for everything — it's 300 feet long," the chef says. "Whatever New York wants." Our only question: When do we start calling the chef "captain"?