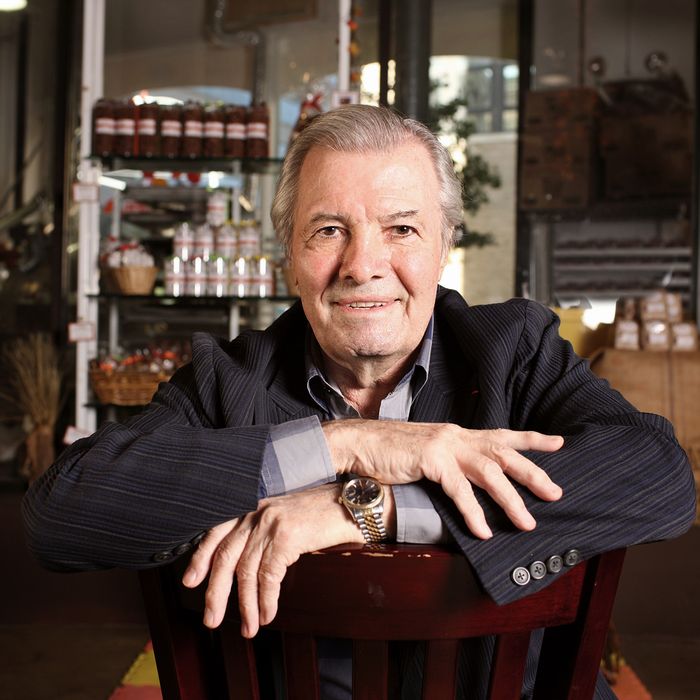 Jacques, at Jacques's: Pépin lounges at Jacques Torres.
Photo: Melissa Hom
You'd think by now Jacques Pépin would be able to write a cookbook in his sleep. But he says his latest book, Essential Pépin, which was released this week, was in some ways his most difficult. "I thought it was a recapitulation, or, you know, just putting together old recipes and so forth," Pépin says. "I decided to change and re-look at them and to make it more coherent, and it ended up being actually, as I say, quite more complicated than doing a new book." But that doesn't mean this will be his last book for the time being. He says he's already at work on the next idea: "I did two series called Fast Food My Way, and there was something similar that I was working on. I stopped working on it when I started working on this book, so I'll go back to that." Luckily, in between projects, he found time to speak with us and lay out everything he ate for this week's edition of the New York Diet.
Friday, October 14
No breakfast. I am not used to eating breakfast, and I am already too fat to force myself to eat when I really don't feel like eating.
For lunch, my assistant Norma made a granola, her special granola. So I had that.
For dinner, we had a gravlax of salmon that I made, with bread and butter. Then a frittata of potato. I just had some fresh potatoes from the garden, and I had good eggs from a farm here, so, a frittata with herbs, and pancetta, and scallions. And we had a salad, with garlic dressing and some cheese.
Oh, yeah, and red and white wine are always there. But I am not too much of a snob about that.
Saturday, October 15
For coffee, I have an Americano, rather than espresso. It's kind of an extended espresso, and that's with some milk, like a kind of café au lait. Oh, and here I have put that I had breakfast. I had a tartine. Tartine is what we call jam toast. I do my own apricot jam, and I love apricot jam. So I had that.
Lunch was a barley-gizzard soup. It's a soup that I did at home. I buy a package of gizzards; I like them. So I make a pretty thick soup with potato and carrots and leeks and so forth.
I had dinner at our friends' house, Charlie and Priscilla. So, a lot of wine, red and white wine. Sometimes at friends' houses I'll go into the kitchen and help, but they are usually all chefs or friends, so it's kind of pretty casual.
We had pizza to start because he's got a big bread oven outside, and he's a specialist of pizza. After, we had a roasted lamb with string beans and a kind of gratin with zucchini and tomato. And a salad.
For dessert, Priscilla made some cranberry souffle.
Sunday, October 16
I had some rilletttes for lunch. Rillettes is a kind of scrapple, if you will. It's made with pork that's cooked for a long time, and then mushed into a kind of paté. We had that with mustard and bread and a glass of white wine.
At night, we went to a Chinese restaurant next to us in Connecticut. We had a great lobster stew, cellophane noodle with shrimp, some fried chicken wings, clam and black-black sauce, some dumplings, and beer. They do some beautiful Belgian beer. We had some Duvel, and … I forget the name. Like a bottle of Champagne. Saison Dupont.
Monday, October 17
That day, I came into New York, so I ended up in Jacques Torres here, and I had a chocolate croissant, hot chocolate, and a regular croissant for lunch. Jacques and I have a great time together. He is fantastic.
That night we had a party for the book, so I had hors d'oeuvres there. After that I went to the restaurant at the school and had a tuna tapenade that we have on the menu, and I had some dessert. I think it was a poached pear with puff pastry around it.
Tuesday, October 18
I had a demonstration and a lunch at the school. We did asparagus a couple of different ways, tiny pieces of tournedo with mushroom and red-wine sauce, a stuffed tomato, and a pear tart.
For dinner, I was back at the school, doing another demonstration. When I'm in New York, I'm at the school every day. Sometimes I am with friends, and we go out to dinner at one place or another, but very often I am stuck at the school. I had a tuna tartare to start, and some roasted scallops with a kind of couscous with it, and a salad. And again, some crème brulée or whatever. Some dessert.
Wednesday, October 19
That day for lunch I had some leek-and-potato soup, a piece of bread and cheese. And I will tell you where it was, it was at Williams-Sonoma, because they made leek-and-potato soup from my book for a book signing.
After that, I went back to the Yale Club where I am staying. I had a Club sandwich, and a beer, and that was it.