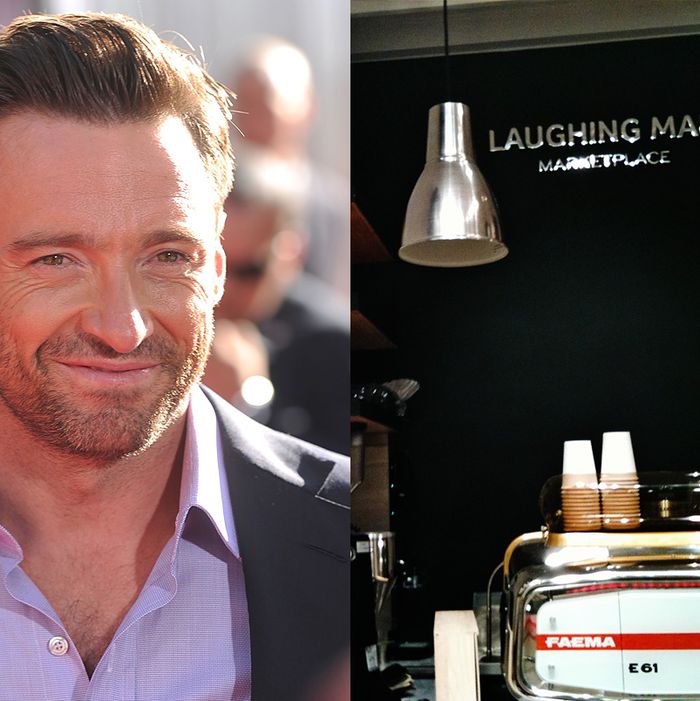 He's highly caffeinated … and it's his birthday!
Photo: Jason Merritt/Getty Images
Today at ABC Kitchen, Hugh Jackman orchestrated a little love-fest to launch his new Laughing Man Coffee & Tea line, an entirely nonprofit venture inspired by a 2009 trip to Ethiopia that Jackman hopes will soon be changing lives. (And not just for bleary-eyed New Yorkers.) We sat down with the Real Steel star to talk about his coffee line and soon-to-open shop, Paul Newman's influence on the new project, and Jackman's plans to make his son marry Jean-Georges's daughter.

Let's get to the point: Is Jean-Georges your best friend?
Yeah, and by the way, I keep telling my son, "Find a way to marry his child." Because we need to cement this relationship. We're neighbors and great friends, but I need it to be permanent. Chloe [J.G.'s daughter] and my son, that's the project we're working on.
Was it J.G. who inspired Laughing Man?
Paul Newman did, actually. Eight years ago, I read the book written by his partner, and at that point, I thought, some day, I'd like to start that sort of business that gives back and has longevity. In every way, I look up to Paul Newman. From acting, to the way he handled himself; he's just authentic. We want to make money and create jobs, but the profits after that, entirely going to charity.
Being a self-proclaimed foodie, what's on your "It" list right now?
I like the Monkey Bar — I like Graydon's style. I like Nobu, Orsay, Barbuto. We do find ourselves at J.G.'s places a lot, we really do. And Perry Street restaurant on the bottom of our building? Um, yeah, they deliver. And by the way, we do that a lot.
What's the scene going to be like at the Laughing Man shop, opening next week on Duane Street?
First and foremost, you can get a great, great cup of coffee. And for any Aussies out there, we have a thing called a "flat white," which is like a latte with a little less milk and more espresso. Our barista is trained by me on how to make it exactly.
It seems only fitting that restaurateur is in your future.
I'm not sure. I watch J.G. and he never stops. He is always moving. I seriously do not know how he does it. He cooks all weekend, too, like, for fun. It doesn't even compare to a Broadway show. A show is an intense period, but from 11 p.m. until two o'clock the next afternoon, I'm like a bear, snoring, whatever. I mean, just look at him go …
(And just like that, J.G. lights a homemade marshmallow-frosted birthday cake for Hugh's birthday today, and the room starts to sing … )
Related: Jean-Georges Planning to Open Massive Lobster Shack On Old Staten Island Ferry