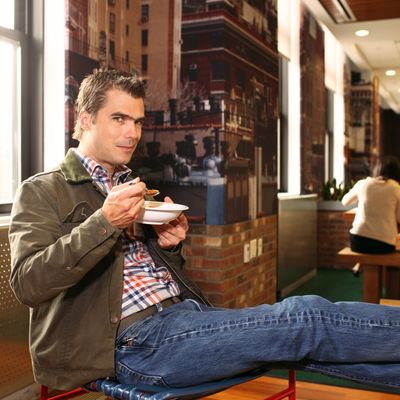 Acheson, kicking back at Google with a little stew.
Photo: Melissa Hom
Atlanta chef Hugh Acheson is ready for his close-up: After a successful run on the most recent season of Top Chef Masters, Acheson will soon take over judge duties on Top Chef's new season, debuting next week. Not to mention the fact that his first cookbook, A New Turn in the South, came out last week. "It's definitely active right now," Acheson says. "And the restaurants have been busy as hell, so that's good." Speaking of busy, Acheson started his week promoting the book in Austin, Texas, and flew to New York for a few days in the Big Apple. And he dutifully kept track of everything he ate so he could relay it for this special "Feeding Tube" edition of the New York (by way of Texas) Diet.
Friday, October 21
That day, I landed in Austin in the very early afternoon. Flew in from Atlanta. My first stop was a little food truck there called Bits and Druthers. It's a fish and chips food cart. It's all really awesome. Great fries, really great haddock, malt vinegar, and really nice people.
After I checked into the hotel, I went to this great little coffee shop called Frank, which has really good coffee, and I grabbed a cortado, which is kind of my coffee of choice. I'm really into coffee, probably too much. But that's okay.
For dinner, I went to this place called Foreign & Domestic. They have a young chef named Ned, and Ned is a really interesting guy, so I jumped in a cab and went up there. Ned sort of knew I was coming, so he set me up at the counter and just killed me with food, which was fine. He did an awesome poached egg with clams that was great. And he did a big plate of pigs brains with huckleberries, and that was really good, but rich. And then he did a crisp tongue with horseradish; cavatelli with clams and snails; and fried chicken with a biscuit and creamed collards. I tapped out early, but they still sent out dessert, and you gotta eat it. I had yogurt sorbet with banana tart. It was great, and Ned has been getting a fair number of accolades.
Saturday, October 22
I did a cooking demo in the morning with Martha Hall Foose. So I did some Frogmore stew for a bunch of people.
Then, there are like four of these little convenience stores in Austin called Royal Blue, and they have really good, simple food. So I went there for a panini sandwich and hung out.
I had a bunch of other meetings and then ended up back at Frank's for a late-night hot dog with sauerkraut, mustard, and housemade pickles. It's like a gourmet hot dog, so it was good. And I had some Hatch green-chile-cheese-fries.
Sunday, October 23
I flew to New York the next morning and had vast amounts of crappy coffee.
When I got here, I walked over to the Blue Ribbon Sushi on 58th. It's always just the freshest fish, and really simply done, but really, really good and clean. So I went there and had a bunch of octopus, tuna sashimi, some soy-marinated mackerel, a hamachi-and-enoki roll, and then a big carrot-and-mache salad. A nice Hitachino Next red-rice ale, and then went to bed.
Monday, October 24
I went to Le Pain Quotidien and got a croissant and a coffee, and then went to do the Today show.
After that, we went to Má Pêche, which was really good. We were, like, a party of eight. We got summer rolls, all the bánh mìs — the goat bánh mì was really good — and then the crispy pork shank, which was great. The potatoes with basil and fish sauce and chile aïoli — that was really good. And they have this really simple broccoli salad with smoked raisins, mayo, and seaweed. That was pretty cool. And their desserts are always great — compost cookies and crack pies. Crack pie is great. It's the first time I really had it. Very, very similar to a chess pie, with about a pound more butter per portion.
It's a beautiful restaurant. It's kind of an awkward space to make sense of, but I think he makes sense of it really well.
Okay, so that night I met a friend at Maialino, which I hadn't been to. Floyd Cardoz called up and made a reservation for me, so it's good to have friends because those restaurants are always booked. There's just something about what Danny Meyer does. You always feel so comfortable in all of his restaurants. We sat down and they just cooked for us, which is always great.
We ate a bunch of octopus, two different pastas, and the suckling pig was awesome. Melt in your mouth, but still a nice amount of acid so it wasn't too rich. Dessert was bread pudding, which always seems so pedestrian in a lot of ways, but when you pull it off and hit a home run with it, it's awesome. This was, like, barely-held-together bread, completely moist, just so custardy.
Ended it with some really good coffee. I thought they'd be doing their really cool pour-over coffee, but they don't really do that at night. They still did it for us, which was great. It's cool to see other restaurants have the foresight that, coffee is here to stay.
Tuesday, October 25
We were gonna go over to Roberta's, and we did, but they had closed the restaurant to go Go-Karting. This is a phenomenon you will see only in Brooklyn. Utter respect to them, I think it's totally cool that they can close down a restaurant to go Go-Karting.
So we ate at Shake Shack. It was my first time having it, and it was everything people say it is. You line up for twenty minutes, get a little burger, great fries. The key to a great burger, I think, is it doesn't have to be this one-pound monster. It doesn't have to be on a brioche bun. There's a smartness, though. A burger's been done, so how about you just do it really, really well? And I think that's what they're doing there. It's a great menu. You could probably do a hundred units of that restaurant and still do really well. I'm sure that's in the planning.
For dinner, I met up with a couple of friends and went to a little restaurant called Goat Town. Beautiful restaurant, really cute. I had the housemade ricotta, which was really great, with grilled country bread and figs and a little honey and balsamic. And then I had a steak that had some tobacco onions, which are kind of like Funyons for the New World. The side was roasted cauliflower and anchovy breadcrumbs. And I had a really good Counter Culture coffee. It's a very quaint little neighborhood restaurant. It definitely fits a mold — spinning really cool vinyl, having fun with it.
Wednesday, October 26
I woke up and went to Google and spoke at their cafeteria. It's across the street from Chelsea Market, so when I got there I got a cappuccino at Ninth Street Espresso, which I usually do. And then I went upstairs and graffiti'd on Food Network's walls. And then I went up to Google.
They were cooking all of the food from my book in their cafeteria, which was cool. Frogmore stew, braised cabbage, short ribs, and all this other stuff from my book.
It was a lot of fun. It was really cool. Google's awesome. It's fun to go into a room and speak with a bunch of 14-year-old millionaires. It makes me feel very wise. And old.
And then I went to Eataly. I'd never been there. And what. A. Fucking. Zoo. That place was madness. I got a really good taleggio-and-speck panini and walked around eating my sandwich. It was cool to see. People have ambitious ideas, but only someone like Mario and Joe Bastianich can pull off something like that.
You think immediately that it's only gonna appeal to hedge-fund traders, and I was actually amazed that it was, you know, pretty fairly priced. That's the biggest problem with the world of fine food these days: It's a pretty expensive world for someone who's lower-middle-class to enjoy. So, Shake Shack and Eataly for everyone.
More "Feeding Tube":
How Much Are TV Appearances Worth for Restaurants?
Ten Restaurants That Need to Take a Food-TV Hiatus
Sloshed TV: Grub Street's Pitch for the First-Ever Non-Boring Booze Show
Five Cooking-Competition Bad Guys Tell Us Why They're Just Misunderstood
Ten Important Moments in Food-TV Recipe History
Buttered Up: A Look at Paula Deen's Financial Empire