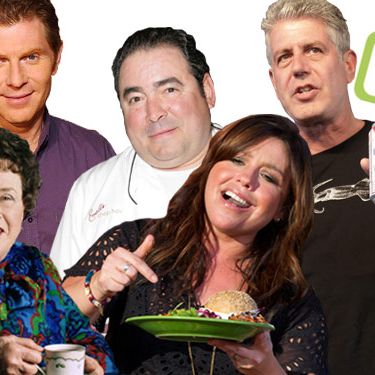 Love 'em or hate 'em, there's no denying the infulence of food TV's biggest names.
Photo: Flay: Larry Busacca/Getty Images for Hellman's, Lagasse: Patrick McMullan, Bourdain: Alexander Tamargo/Getty Image, Child: Michael Grecco/Getty Images, Ray: Gilbert Carrasquillo/Getty Images
This week, Grub Street will examine the ins and outs of food television. To kick things off, New York restaurant critic Adam Platt looks at the very real way food TV is affecting the way the country eats.
Back in the distant, quaintly mannered era of Jacques Pépin and Julia Child, cooking shows were a guilty pleasure, enjoyed by a handful of high-minded home cooks and the occasional obsessive, fatso schoolboy (like me). But in the last fifteen years, that equation has dramatically flipped. It's the non-cooks now who tune in to see Emeril Lagasse's latest recipe, then rush out by the millions to purchase the latest signature frying pan endorsed by Bobby Flay. More people on average watch the Food Network than CNN, and when you throw in other hit food shows (No Reservations on the Travel Channel, Top Chef on Bravo, Kitchen Nightmares on the BBC and its American spinoff on Fox), you have an audience that dwarfs almost anything outside of ESPN.
"We're all foodies now," said a friend of mine who hasn't missed an episode of Top Chef in years. She readily admits an addiction to Iron Chef America; she learned to cook risotto by watching Lidia Bastianich do it on TV; and she's on a first-name basis in her head with all sorts of food stars — "Eric" for Ripert, "Bobby" for Flay. "We went out to Hung's place last night," she recently told me, after a dinner at Catch. She's bringing the same knowledgeable passion to eating that sports fans do to sports when they cheer for LeBron or Kobe on TV.
This rabid new audience has changed the way we all think about, talk about, and consume food. Home cooks are heading out and buying the industrial-style ranges and fridges that they see on Iron Chef America, and obsessing over the origins of the ingredients they cook in all sorts of new and unprecedented ways.
Thanks to Tony Bourdain and his intrepid, iron-stomached, counterpart Andrew Zimmern, there's a whole new generation of globe-trotting gastronauts who would rather search out the finest bowl of Pho soup on the streets of Hanoi, say, than spend their time shuffling through tourist-filled museums
And, of course, restaurants are booming like never before.
Even before the reality-TV craze, chefs like Gabrielle Hamilton (Prune), Michael Symon (Lola, Lolita), and Sang Yoon (Father's Office, Lukshon) began abandoning the stuffy old front-of-the-house gourmet restaurant model to celebrate the kind of casual, informed recipes that people who work in professional kitchens like to eat. But Top Chef and its endless cavalcade of imitators have accelerated the process by breaking down the old barriers between the kitchen and dining room, and turning formerly anonymous, tattooed kitchen slaves into stars. Not to mention the fact that established cooks like Mario Batali and Tom Colicchio have become populist TV stars, too, and although their success has taken them out of their kitchens, their brands and businesses have prospered.
Every great boom has its dark side, and this one is no different. Traditional chefs, like Jacques Pépin, complain that the new generation of cooks is more interested in getting TV contracts than learning knife skills. The most popular food shows these days are more about entertainment than cooking (according to the Times, Guy Fieri "makes Emeril Lagasse look like Alain Ducasse"). And some of them (thank you, Paula Deen) have arguably contributed to the fattening of the great U.S.A.
On the other hand, all sorts of talented chefs — Wylie Dufresne, Jonathan Waxman, Hugh Acheson, to name a few — have been given new life because of their exposure on television. For every time Sandra Lee has made a Kwanzaa cake or Deen has deep-fried butter, Ina Garten has broken down the easiest way to cook a classic tarte tatin and Bourdain has introduced America to the madcap pleasures of dinner at El Bulli.
Channel surf for an hour or two in this golden age of food television and you'll find something for everyone, whether it's Alton Brown deconstructing the history of the martini, Jamie Oliver pushing to reform kids' food in schools, or even Anne Burrell badgering some downtrodden food losers on The Worst Cook in America (my own personal guilty pleasure). This endless, buzzing loop of recipes, reality shows, and loudmouth chefs is comfort and a distraction. It's informative, ridiculous, maddening, and entertaining. It's the background music, in other words, for our jangling, self-indulged, food-obsessed era. So get used to it, because it's here to stay.
More "Feeding Tube":
Anthony Bourdain Tells Grub Street About the Food Shows He Actually Likes
Ten Important Moments in Food-TV Recipe History
Jonah Hill Totally Dissed Paula Deen on TV
Eleven Real Secrets Behind TV Food Styling