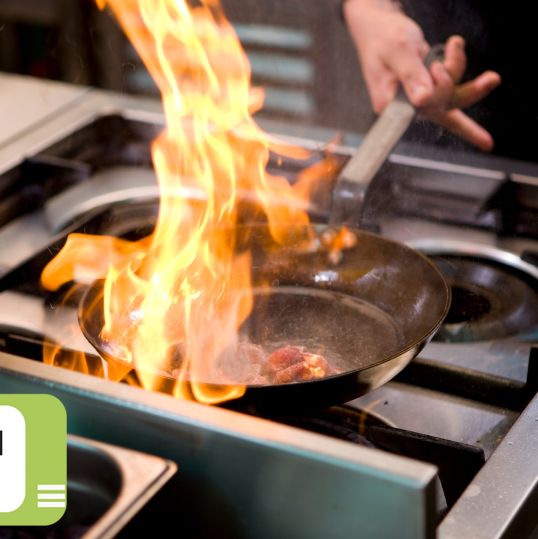 Gonna want to put that out.
Photo: iStockphoto
For some people, Food Network's huge recipe database is known primarily for "recipes" such as dark chocolate as a snack, and pudding-dipped strawberries. Which, well, is fair. But the fact is Food Network's huge kitchen is a recipe-processing beast, churning out hundreds each month and preparing an absolute ton of TV-ready food. Test kitchen manager Claudia Sidoti broke it all down for us.
32 People: The number of staffers who make up Food Network Kitchens' culinary team.
2 Kitchens: Even though Food Network Kitchens is one big space, it's divided into two distinct areas, the Test Kitchen, which develops, tests, and edits recipes; and the Production Kitchen, which Sidoti says "is responsible for all the beauties, the swaps, everything that makes it on-camera."
18 Refrigerators: That's one main walk-in fridge, seven Traulsen reach-in refrigerators, seven low-boys, and three separate freezers.
3 Full-Time Ingredient Buyers: Sidoti says the buyers are so good that they can find pretty much any possible ingredient "within hours at times." But, she adds, "We have the benefit of living in New York City, so that's pretty great."
1 Full-Time Researcher: We're always getting information from him to keep us updated on what's going on, what we should look out for," says Sidoti. Often, the information helps the kitchen focus on sustainability issues. "Like Iron Chef, shark is an ingredient that just came up, and we completely red-flag something like that.
200 Original Recipes per Month: "We're testing and developing original content for magazines, cookbooks, web-related projects like a Halloween package of eight treats for the website, a variety of things that come to us for advertorials' sake, and then there's all the cross-testing that happens in the test kitchen, which is everything for the magazine or television that comes from anywhere, anyone, any restaurant — we have to make sure that they are good working recipes."
2 In-House Studios: The kitchens are literally across the hall from Food Network's two in-house studios: "There is studio A and B. B is the smaller studio, so we do a lot of tabletop shots there." In fact, almost all shows are shot in Studio A, which means Kitchen Stadium is the same space as Guy Fieri's kitchen on Guy's Big Bite.
4 to 5 Remote Staffers: Even with the studios, plenty of shows are shot remotely, too. And every show has at least one culinary producer helping with food issues. "For everything that we're doing in-house," says Sidoti, "there's about four other things being done on the road."
8 Private Events Per Month: The kitchen area is taken over for parties and private events about twice a week.
2 Hours: The shortest possible amount of time it takes to concept and finish a recipe. Well, "ten minutes for a successful cocktail recipe," says Sidoti. "But it's about two hours for a recipe that has to go from development to test."
3 Weeks: The longest amount of time it's taken to develop a recipe. "I remember working on a moussaka that must have been tested about twelve times before going to cross test," Sidoti tells Grub Street. "Others have worked on development for that long, including a King Cake recipe that took about fifteen passes."
More "Feeding Tube":
Eleven Real Secrets Behind TV Food Styling
Ten Important Moments in Food-TV Recipe History
Jonah Hill Totally Dissed Paula Deen on TV
Anthony Bourdain Tells Grub Street About the Food Shows He Actually Likes
How Food Television Changed the Way We Eat