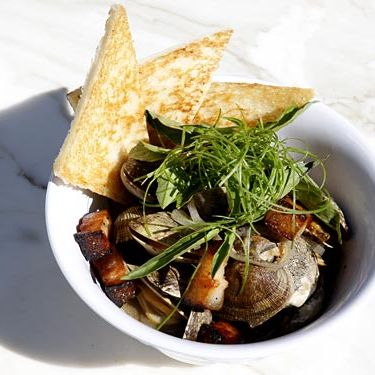 Don't worry, 'Cue bacon and clams is still on the menu.
Photo: Hannah Whitaker
Now that fancy Fatty 'Cue Manhattan is up and running, the Crew drops a line about some changes in the works at Fatty BK. In order to address "structural issues," the back dining room at the Williamsburg location has been closed, and the front is now operating as "the Bar Room at Fatty 'Cue" from 5 p.m. onward daily until construction is complete. Cocktail events will be a regular feature (follow Twitter for announcements), beginning Friday with picklebacks and Zak Pelaccio at the turntables. The food menu is mostly the same, with a few additions: oysters with smoked horseradish and Meyer lemon; chicory salad with green peppercorn dressing and Malaysian cincalok; and the chilies and cheese with soft rolls you might've tried at the new Fatty. And you can still nurse a weekend hangover with a 'Cue bacon, egg, and cheese at brunch. See food menus below.
Bar Menu

Oysters | smoked horseradish & meyer lemon shaker | 12/24

Chilies & Cheese | salted chilies, housemade cheese, soft rolls | 9

Chicories | cincalok & green peppercorn dressing | 11

Heritage Pork Ribs | smoked fish-palm glaze, indonesian long pepper | 14

Lamb Ribs | cincalok & white wine brine, garlic-lemon emulsion | 12

Brisket & Bao | chili jam, aioli, pickled red onion, cilantro | 16

The Smoky Johnson | smoked brandt beef blend sheep's milk cheese, mustard aioli, b&b; pickle | 12

'Cue Bacon & Clams | manila clams, house smoked bacon, fresh curry leaf | 19

Bowl O Noodles | meat juices, scallion, chili | 11

Thick-Cut Fries | 6

Curried Black Eyed Peas | 7


Brunch

Oysters | smoked horseradish & meyer lemon shaker | 12/24

Omelette | of the day | 11

Flapjacks | smoked maple syrup, bacon | 10

'Cue Bacon Egg & Cheese | soft roll, coriander bacon, two fried eggs, smoked cheddar | 9

Heritage Pork Ribs | smoked fish-palm glaze, indonesian long pepper | 14

The Smoky Johnson | smoked brandt beef blend sheep's milk cheese, mustard aioli, b&b; pickle | 12

Bowl O Noodles | meat juices, scallion, chili | 11

Thick-Cut Fries | 6

Curried Black Eyed Peas | 7

Toast | 3

2 Eggs Any Style | 4