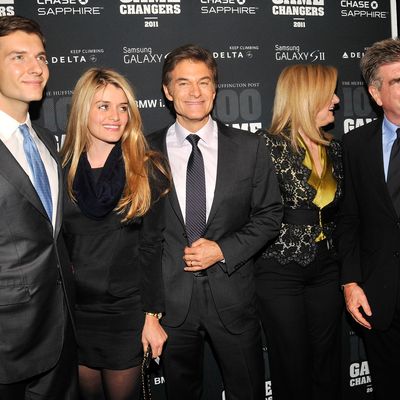 Gettin' wild with them walnuts.
Photo: Ben Gabbe/Getty Images
When he wasn't stressing over the Occupy Wall Street unmentionables over at the Huffington Post 2011 Game Changers event, Grub Street asked Dr. Oz and his daughter (and co-host of The Chew), Daphne Oz, to think back to Frank Bruni's blunt breakdown of Dr. Oz's eating style: "It was the most efficient, joyless eating I have ever seen." Their reaction? Yup, Bruni was basically right.
Frank Bruni once called Dr. Oz's diet "the most efficient, joyless eating I have ever seen."
Dr. Oz: You have a good memory. That's right.
Daphne Oz: My own eating habits are definitely informed by having grown up at the same dinner table as the man to my left. However, I tend to be a little less rigid, I definitely enjoy my food, and I'm not quite so strict in my restrictions.
Dr. Oz: Frank found it joyless, but, you know, I like to automate my life.
Daphne Oz: It's efficient. [Laughs.]
Dr. Oz: It's very efficient. So what I was doing was, when he wrote that, I used to put walnuts — I still do — in water and soak them. And he saw me eating walnuts out of water, and he found them very bland. I like the essence of them, I like the Omega-3s in them, he was looking for pepper sauce or something.
Daphne Oz: I've seen you eat fresh fish, and I've seen the joy that it brings to your face. There are foods that definitely strike joy into his heart.