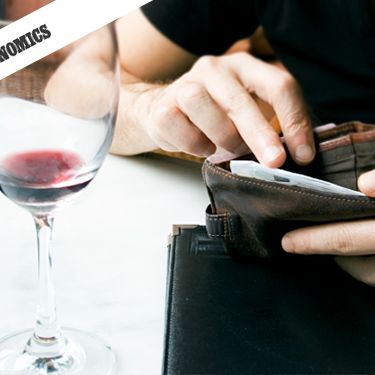 "Let me just get my tip calculator out … "
Photo: iStockphoto
Megu, the giant Japanese restaurant in Tribeca, is an "expensive" restaurant, but exactly how expensive? Is a meal there going to cost $200? $300? People who spend time eating out probably have some ballpark figures in their heads for the cost of various restaurants around town. But now, a new start-up called Bundle allows us to pinpoint precisely how much people spend at any given establishment.
Bundle, which compiles real spending numbers for restaurants and other businesses, is backed by Citigroup, and has access to an enormous database of Citigroup debit and credit card transactions, covering more than 20 million households. That anonymous data, it turns out, is incredibly detailed. For the first time, we can actually see exactly how much people spend at various restaurants.
Why would anyone but the most hard-core stat geeks want to look at a bunch of charts about how much people spend at restaurants? There's the voyeurism element, but there's also the fact that the charts provide an illuminating look at how certain restaurants actually make their money. Customers can see how much their peers are really spending, and restaurant owners can, for probably the first time, get a very real sense of how their competitors are doing.
So let's take a look at what I mean. (All of the restaurants below serve only dinner, so lower-spending lunch charges aren't factored into this data.) Let's first look at the charge date from Megu, since it gets lots of customers, and therefore generates a lot of datapoints.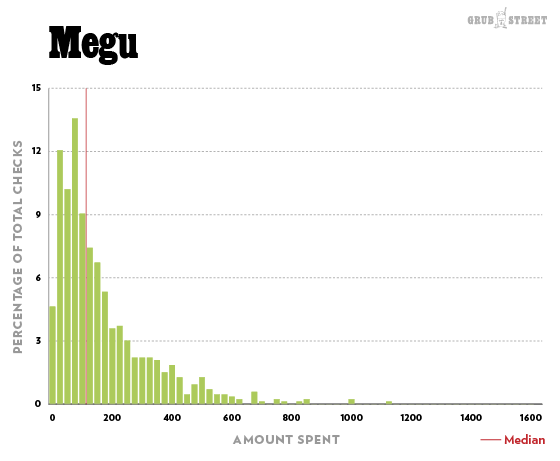 Illustration: Jen Cotton

The range of expenditures at Megu is enormous. More than 4 percent — one in 25 — of the charges are for less than $20. And at the other end of the spectrum, more than 1.5 percent of the card charges are for more than $800. In fact, according to the Bundle data, people are just as likely to spend over $800 at Megu as they are to spend between $600 and $800. Most interesting is that the median expenditure at Megu is $126.87. Or to put it another way, statistically speaking, if someone is charging money at Megu, there's a 50 percent chance that they'll charge more than $126.87, and a 50 percent chance that they'll charge less.
Compare that to Megu's Tribeca competitor Mr. Chow, whose spending chart looks remarkably similar: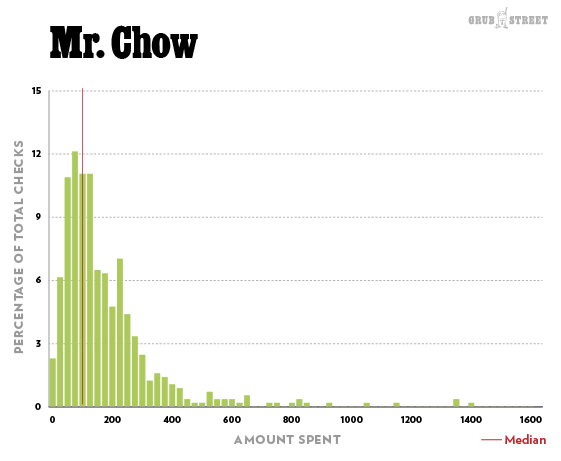 Illustration: Jen Cotton


At Mr. Chow's Tribeca outpost, Zagat says a typical meal will run you $77. Bundle says the "real price range" is $210 to $220. The median amount charged to a card there is actually $145. And 2.1 percent of customers spend more than $800, while 17 percent spend less than $70. One thing's for sure: Anyone who thinks the diners at Mr. Chow are some homogenous mass of Hollywood scenesters (depsite — or perhaps because of — their appearances) is mistaken. At least as far as spending habits are concerned.
Another thing this data allows us to do is compare restaurants in whole new ways. For example, how do diner spending habits differ among some of New York's upper-echelon restaurants? Let's start with Babbo: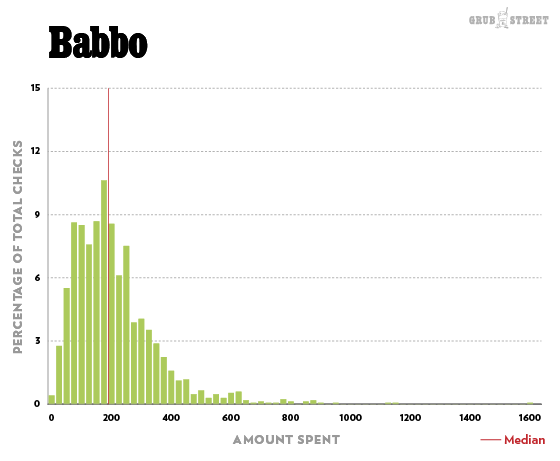 Another thing this data allows us to do is compare restaurants in whole new ways. For example, how do diner spending habits differ among some of New York's upper-echelon restaurants? Let's start with Babbo:


Illustration: Jen Cotton

What we can see from the chart is that a diner at Babbo has a pretty good chance of coming up just about anywhere between $60 and $270 (though there's a noticeable spike at $200). For a restaurant commonly considered one of the city's "best," and thought by many to be one of its most expensive, this is a relatively affordable number. There is also a noticeable absence of any really big-ticket, four-figure checks. We can probably surmise from this data that plenty of people go to Babbo for a drink or a nice dinner, but few go there for a big blowout meal.
For the blowouts, let's look at the histogram for Per Se, which Sam Sifton this week calls the city's best restaurant. There, most diners — minus those who partake in the restaurant's limited salon menu — order from fixed-price menus, with service included.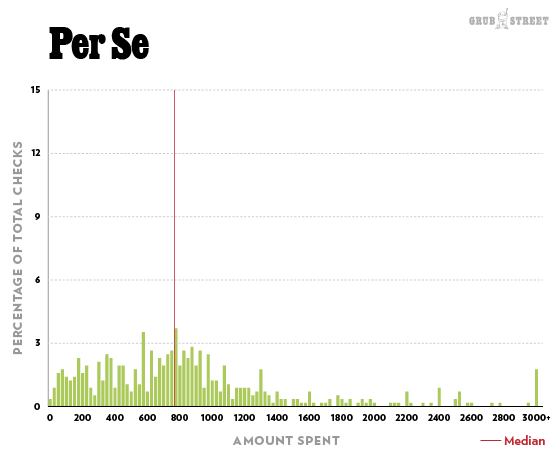 Illustration: Jen Cotton

Interestingly, the range of charge amounts here actually has a larger spread than at the less expensive restaurants, with plenty of check amounts coming in far under the $295 per person (before tax) that Per Se charges just to eat in the dining room. (It might come as no surprise, then, that Le Bernardin recently added an option for lounge dining to its restaurant as well.) But look at how many more people are spending over $1,000 at Per Se than are at Babbo. Indeed, Per Se gets fully 10 percent of its overall dining revenues from checks for more than $3,000, even though they represent less than 2 percent of the payments run by the restaurant.
And what about fellow heavy hitter (and recently reanointed Michelin three-star restaurant) Daniel?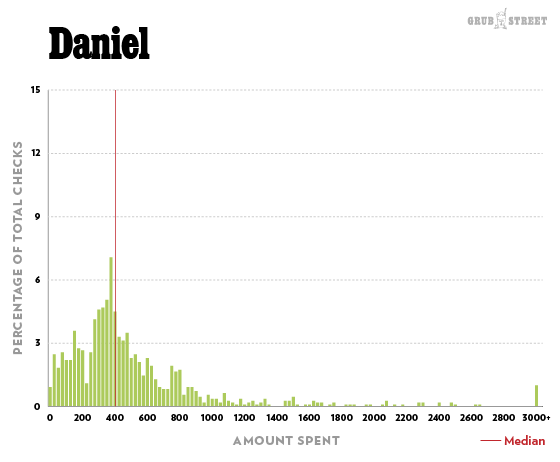 Illustration: Jen Cotton

The median spend here is $401.70, which is more than double what people spend at Babbo, and more than triple what they spend at Megu. But it's still nowhere near $768.07, which is the median spend at Per Se. So even though Daniel is every bit as "good" as Per Se according to almost all reviews and criticisms, it is also noticeably more affordable.
Of course the big takeaway is that customer spending in New York is all over the place, which must make it daunting for restaurateurs to come up with successful business plans. Perhaps that's why the city's successful restaurants aren't just run by the city's most talented chefs, they're also run by the ones most adept at adapting to an extremely broad range of customer desires.
Felix Salmon is the finance blogger at Reuters.
Earlier: Gastronomics: How Pop-ups Went Boom, and Why They Should Go Bust