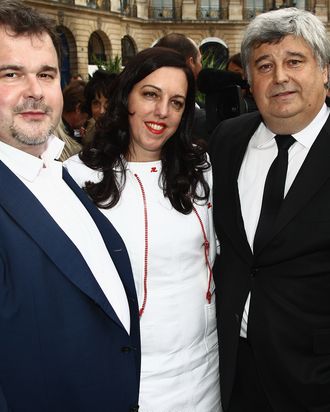 Hermé, sans macaron.
Photo: Julien M. Hekimian/Getty Images
Since opening in August, the Ladurée outpost on Madison Avenue has been thronged with people clamoring for their signature macarons. (Not to mention the offerings at Bouchon, Payard … ) But in Paris, any conversation about the tiny technicolor sandwich cookies must also involve Pierre Hermé. So when we bumped into him at yesterday's StarChefs Chefs Congress — where he demoed his techniques for mint and spring-pea macarons — we couldn't resist asking him what he thought of New York's macaron boom and whether he planned on opening here anytime soon.
What do you think about macarons suddenly becoming so popular in New York?
It's not surprising to me, because I've worked really hard to make that happen. So it's not by chance. You know, I've worked a lot on macarons, on making them more popular so it's only normal that at some point it trickles down and becomes more popular. I created Macaron Day in France. That takes place every March 20, and I involve pastry chefs from the whole country. So throughout France there's this Macaron Day, and it's with Relais Desserts, which is like the Relais Chateau.
So this Macaron Day I created, François Payard makes it here in New York [Editor's note: It will happen on March 20, 2012], and so it's the same thing. So the idea behind that is to give people who come to the shops one macaron, two macarons, three macarons [and] have them give a donation to a disease-prevention charity.
Have you seen anything in Paris or Europe that's comparable to America's obsessions with cupcakes, and now macarons?
In France, macarons are not a trend. You know, cupcakes are a trend but macarons are not a trend. It's really something that's deeply anchored in the French pastry patrimony.
A lot of your compatriots have opened shops in New York. Do you have any plans to bring your brand to New York, or somewhere else in the States?
The Maison Pierre Hermé is in Paris, Japan, and England, and so for now there's no project to do anything. We are a luxury, artisanal production and so industrial productions have an easier time coming to the U.S.
It's two completely different worlds. [But] it's possible, why not? But it takes a lot of time to train pastry chefs, and so to open here in the States, it would mean training a team, training chefs who can produce the macaron here. That's very tough; it takes a lot of time to do that. It's not like jeans, where you can just make them and then ship them. There's a lot more attention to details that needs to be paid.