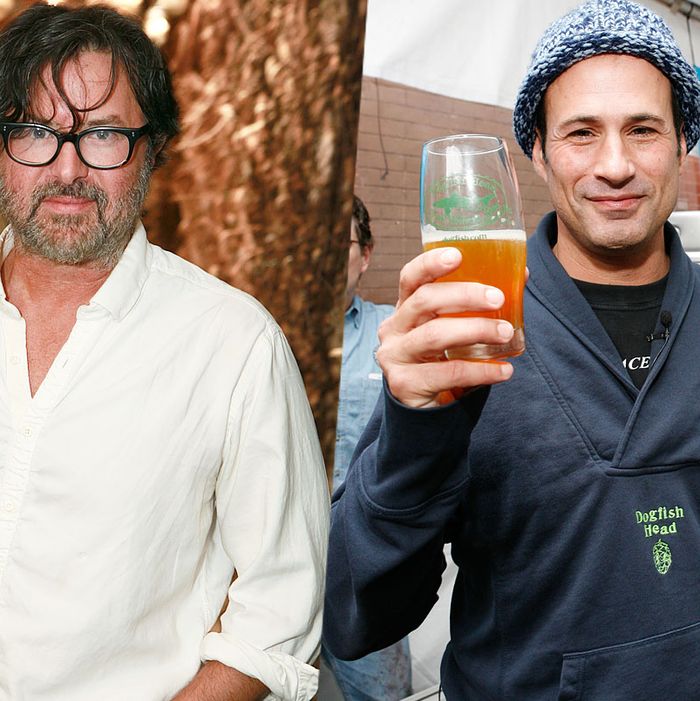 Reid and Calagione: Two fashionable dudes?
Photo: Patrick McMullan, Amy Sussman/Getty Images for The New Yorker
We bet Adam Rapoport will love this: Dogfish Head brewery's latest joint effort isn't with some other brewer. It's with designer Billy Reid — surely a first for the Delaware-based beer company. In the weeks to come, Reid will unveil two new T-shirts designed by Dogfish Head's Sam Calagione. Though the partnership seems a little dubious, Calagione maintains that it won't, well … water down the brand. "We don't really do any advertising outside of a few beer publications," Calagione told Grub Street. "So marketing for us is all about getting the word out grassroots. We love finding like-minded companies and, kind of, get our peanut butter into their chocolate."
The symbiotic approach, Calagione said, creates an opportunity for Dogfish Head to turn its drinkers on to Billy Reid wares, and in return get Billy Reid wearers to try Dogfish Head beers.
"Back when Dogfish was poor and I couldn't afford graphic designers, I painted and designed all of our advertisements and beer bottle labels," Calagione said. "I still like to do that."
So when Reid asked to collaborate, Calagione came up with two original designs. "One is almost like the 'Liger' from Napoleon Dynamite where I made an aggressive Dogfish logo that's like this tiger and a fish," Calagione explained. And the other simply says "Brew Alchemy," which he says is a reference to his belief that brewing beer is "as much about magic and alchemy and creativity as it is about the traditions of science."
The new shirts will debut on October 19 at Billy Reid's New York City store. Expect copious amounts of Dogfish Head to be flowing and philosophical high fives all around.
Earlier: Brewer Sam Calagione and Actor Ken Marino Agree: Only Dicks Don't Drink Dogfish Head Beer