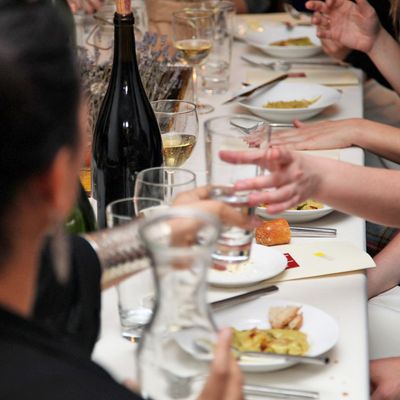 The festivities should look something like this.
Photo: Courtesy Worth Kitchen
Former Hotel Griffou and 5 & Diamond chef David Santos is the latest toque to hop on the supper club train. His new venture is dubbed Um Segredo, which means "a secret" in Portuguese. As you'd guess, Santos will fix a Portuguese-leaning menu for the first dinner series, happening November 4 and 5, and 10 and 11, at the chef's Roosevelt Island apartment. Each night is capped at eight guests, it's a $75 cash donation, and dinners are BYOB. See the seven-course menu below and e-mail umsegredo12@gmail.com to make reservations.
Coriander cured snapper
textures of papaya, chili oil

Sweet potato and duck tongue salad
Rocket, pepitas, cranberry

Seared scallops
Pickled fennel puree, Red wine figs

Portuguese pot pie
Cod brandad, Roasted garlic

Morcilla(blood sausage) stuffed tripe
Piquillos sauce, spanish almonds

Tasting of pheasant
Spatzle, celery root

"Pumpkin Pie"