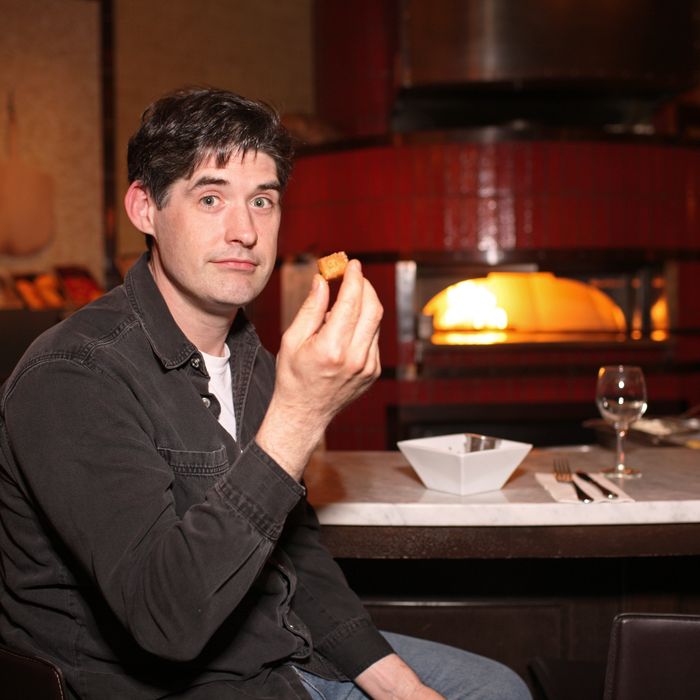 Arnold investigates the food at the Plaza Food Hall.
Photo: Melissa Hom
When we asked Dave Arnold, the French Culinary Institute's director of culinary technology, to participate in the Diet, we knew there would be plenty of interesting food. What we didn't know is that we'd have to track him down in Bogotà, Colombia, to hear about it: "I'm doing a panel about innovation and food," Arnold told us, from abroad. "The first half of the panel was about what innovation means in an industrial and commercial way, and I did one on what innovation means in restaurant kitchens." Of course, back here in the States, Arnold is also spearheading the effort to get the Museum of Food and Drink up and running: "We're building our board and trying to raise money to get the organization running," Arnold says. "We have basically a five-year plan to open a space in New York that is dedicated to food and drink — the idea is that if you go to it, you'll experience it, you'll smell it, you'll taste it." In the meantime, if you want to experience tales of late-night Korean fried chicken, Ibérico pork tastings, and Rotovap-distilled hard cider, check out this week's edition of the New York Diet.
Friday, September 30
We're starting off with a bang. Right before I was supposed to start recording what I ate, we had a Museum of Food and Drink event, so a group of us went out Thursday night, and right after midnight we were at a bar called Bill's Gay Nineties, having a bunch of Jameson shots. After that we went to Kyochon and had both kinds of fried chicken, and they made us have soju. I was trying to write everything down, and then we went to the Korean restaurant and I was like forget it. I got somebody else to write it down. And it was split between six people. It was nuts.
The next morning, I had four glasses of seltzer and two double espressos, which is kind of my morning wake-up.
That afternoon, I had a meeting at Ssäm Bar, and we had everything that they make for their duck lunch. So we had fried duck dumplings, and dumplings that were steamed in a broth. This was all split between three people, but they totally killed me, especially because I had eaten so much the night before. They gave us two of their duck sandwiches. Then they gave us scallion pancakes and, you know, lettuce and greens with the duck, and the skin, and the sauce, and the three condiments they have there. It was an insanely huge amount of food.
That afternoon, around four, my buddy Don Lee, the bartender, comes up to me and says he has a theory that everything tastes better with sour cream on it. And then there was some discussion and argument about what his methods were, so we systematically started testing all the foods that we could find, until we got to Twix. Twix didn't taste better with sour cream on it. But if you blend sour cream and Twix, it makes kind of a nice, sweet dip. That actually is very nice with the Twix, but the issue is "does it make it better." Neutral, if it just tastes the same, isn't good enough. So we're not sure.
For dinner that evening, I made pasta with tomato sauce and sausage, just trying to see what my kids would eat. So I got some Italian sausage and made penne with tomato sauce and sausage. My wife and I were drinking a Douro wine.
Saturday, October 1
Every Saturday morning it's pancakes and bacon for the family. We used to do blueberry, but my older son's taken an aversion to them, so now it's strawberry pancakes, bacon, and maple syrup. And a double espresso. We may as well just write that down for every morning.
I had to take my kids to a bowling party up at the Harlem Lanes, and they had wraps and they had pizza. I went for the wraps. I had two, two-inch sections of wraplets, like some cheese and turkey and lettuce and all that stuff.
For a snack, I had another double espresso and a handful of those baby carrots we keep in the house. We were going to a friend's house for dinner, and it was later, so I had another couple of handfuls of baby carrots before.
Dinner started out with a cheese plate. My friend made ricotta- and pignoli-stuffed yellow peppers, filet mignon with a pepper-rosemary sauce, and spaetzle and mushrooms. And copious amounts of wine.
For dessert, they made a pumpkin-and-ginger tart. Like, a very thin, almost German-looking tart. Not like a pumpkin pie. And they brought out a Poire Williams, which was nice, and some German or Austrian chocolates with pictures of Mozart on them. Ate those, too.
Sunday, October 2
Pounded another double espresso, and made more pancakes and bacon for the kids. Each of us gets three slices of bacon.
So then I had to go the Bronx Zoo. I got one of those big pretzels, and my wife and I split a sandwich with mozzarella and peppers, and another that was a version of a turkey club.
I went to StarChefs [Editor's note: StarChefs.com International Chefs Congress] and had Australian lamb with quinoa, done low temperature. I tasted some Rotovap-distilled hard apple cider, but I won't say who did it because it's illegal.
Then I had some Ibérico loin cooked, not cured; some more Ibérico loin with olive oil; and a bunch of cured Ibérico products. And some sausages.
By the way, I drink, like, thirteen glasses of seltzer in a day. It's basically all I drink.
Then a bunch of cheeses. So they had three Gruyères from Wisconsin, and three Gruyères from Switzerland, and we tasted those side by side.
Dinner that night was a big family dinner. I made fresh tortillas and guacamole and tomato salsa. I do pork in the pressure cooker with a bunch of different chiles — I basically use a whole shoulder. I add some tequila to it, then I pressure cook it and correct it for acidity and whatnot. It's good.
For the vegetarians in the crowd, I made a vegetarian version of chili verde. I roasted tomatillos and used canary beans, because I like them. Sweated some onions and a little bell pepper, then threw in the beans and threw in the tomatillos. The secret to get the beans to taste integrated is to then pressure cook it for five minutes. And because it's vegetarian, we doused it with a little bit of soy to pop the umami a little bit.
Because I'm an American, I serve everything with shredded lettuce, too.
My cousin's girlfriend made what she called British doughnuts, but they weren't really doughnuts because they didn't have a hole in them. In the middle was an apple piece, so we had those for dessert along with some whiskey.
Monday, October 3
I had a slice of toasted raisin bread that my mother-in-law made and sent down the last time she was with the kids, and another couple of espressos.
Then, back to StarChefs. Jeremiah Bullfrog, who has GastroPod in Miami, was there. So we got one of his Cuban sandwiches, and some of his Benton's bacon, fat-washed cream soda. And a poached egg with a nice, crunchy topping. I think it was nuts. It was good. Then I had half of a pickled red onion and a small plate of fresh goat cheese and cured tomatoes.
Dinner was leftovers. Basically what I do is keep the masa in the fridge, and I make tortillas from the masa on the second day so the tortillas taste fresh. That's one of my secrets.
Tuesday, October 4
I had two double espressos and another slice of that raisin toast.
Then went back to StarChefs. I was at a cocktail conference that Audrey Saunders and Christy Pope and other people were doing, so I had one of her Earl Grey "MarTEAnis." Not the whole thing. I don't want people to think I'm insane. And then a pine drink that she makes with gin.
After that we had the photo for this, and we were close to the Plaza so figured we'll just go take the picture at the Plaza. I somehow didn't realize I'd get roped into eating the food at the Plaza. No offense to Todd English or anything, I don't know the guy, but it's kind of embarrassing to have people think that's the place I picked to have the picture taken.
So we were there, and we were eating these little arancini. It was kind of a cool idea. Instead of arancini, they make them into tater tots and fry them. But they were a little squeaky.
My wife had a dinner that night, and I was flying out really early the next day, so I ate ragged leftovers. Just straight pork without anything. I literally just ate a plate of pork with a glass of apple cider. When my wife got home, we had a glass of wine that was leftover.
Wednesday, October 5
Got up early and didn't have time to eat because I was leaving my house at five-twenty in the morning. Though I was able to get enough time to pound an espresso.
I thought I'd be in tough shape if I didn't eat something before the flight, because I didn't know that Avianaca would serve me food, so I bought a crappy turkey sandwich. It seemed like it had enough mayonnaise on it.
On the plane, I had a bunch of aqua con gas. Although, they would have served me wine, but it didn't seem right because it was so damn early. And they served the most abysmal scrambled eggs. I don't know how they got so much moisture out of the eggs. It's not physically possible how much moisture they removed. And they had what appeared to be yucca dumplings. Fried things or something. The translation issue was a problem.
When I got to Colombia, I went immediately to a fruit stand and bought a bunch of fruit, including these gooseberries they eat here called uchuva. And I bought a chocolate bar called Jet. It's like Hershey's here, and even though it's cheap, David Chang said it was amazing, so I said, All right, I'm gonna buy it. It was pretty good.
We went out to dinner at a restaurant that was traditional, but I can't remember the name. We started with a cocktail, a hot aguardiente and panela cocktail. Spiked aguapanela, which is the sugar water. It was good, so I'm going to steal that idea. And then I had a drink that was vodka and lulo, which is a local fruit. Lulo makes a nice foam, so I wanted to see what it was like when it was shaken.
So we had that, and then we moved into a bunch of different kinds of shrimp prepared different ways, including some with mozzarella. The cool thing about this restaurant was that you could see these two women were cooks, and you look down and they're dressed — everything is brightly colored — and they have these bright-colored outfits. It was a lot about the experience.
For dinner, I had the costillas, the ribs. Crusty on the outside and a little bit tough, but that's how they're supposed to be. And some potatoes, some patatas gratinées. And we were drinking wine by that point.
A friend of mine, Daniel Castaño, has a pizza joint, and he was flying out so I wasn't going to get to see him, so we went to his pizza place. It must have been eleven by then, and we had Neapolitan-style margarita pizza and of course aguardiente and negronis there. Then he's like, Let's go to a party. So I had to go to a party with him where they were trying to get me to drink Johnny Walker Red. But by that time I was done.