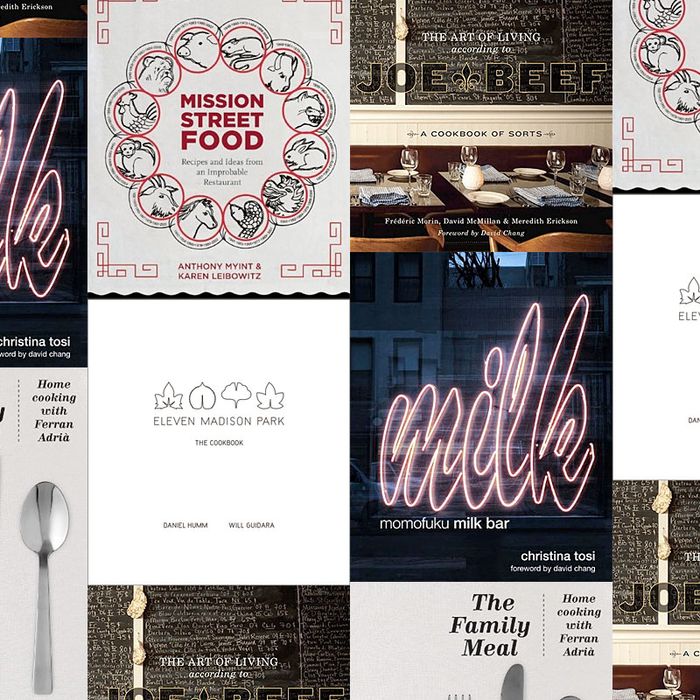 This year's new cookbooks are poised to shift the entire medium.
Last week, Julia Child's Mastering the Art of French Cooking was released as an e-book for the first time, signaling to many that bound and printed cookbooks had finally, unequivocally, been dragged into some collective, inexorable digital point of no return. "No need to page through the book searching for cross-referenced recipes," wrote the Chicago Tribune, "just touch the text, and let your e-book reader find it for you." On The New Yorker's Book Bench blog, Julie Powell had a tender moment with an irreplaceable purple stain in her old copy of MtAoFC, as if to say good-bye. And the Times explained that the only reason it'd even taken this long for Child's opus to hit the Kindle was because Judith Jones, the now-retired Knopf editor who originally acquired the title in 1961, had objected to its e-book release until handheld devices could reproduce the book's unusual, twin-column page layout. But as e-readers catch up with 650-year-old printing-press technology, cookbooks themselves are evolving in ever more interesting ways.

On Eater, Paula Forbes opined, "There's one area the printed book has digital beat: the cookbook as art object … printed cookbooks of the future will be gourmet trophies." The Amateur Gourmet, an e-reading skeptic, made the argument that "great cookbooks understand their role as objects" (raising the question that if cookbooks can "understand," can they also forgive you when you burn the garlic?).
The industry, it seems, agrees: "I think we will still see the big, expensive hardcovers for many years to come," says Michael Psaltis, a literary agent who represents TV-friendly chefs like Tyler Florence* and Top Chef's Richard Blais. "In part because the reason that people buy those books is much different than why they buy fiction … [cookbooks] are seen as collector's items or art, and people want to own them, even if they'll never cook from them. These buyers aren't likely to buy an e-book version instead of the physical book that they cherish." In other words, cookbooks are able to transcend their roles as products and turn into objects worthy of affection.
"I do think the cookbook can hang in longer than other printed material," Don Lindgren of Rabelais books in Portland, Maine, told me, "because it's used differently." Lindgren and his wife Samantha are the proprietors of Rabelais, and, like Omnivore Books and Kitchen Arts and Letters, the shop is one the few specialty cookbook stores out there that will sell a rare German liquor-making manual from 1800 ($2,500) alongside the newest New York 'Times' Cookbook ($40). (It's probably also worth noting that, unlike, say, Borders, Rabelais is still in business.) "The best cookbooks tend to be beautiful objects that people keep in their families," Lindgren says. "There's an explicit social tradition of handing these kinds of books down; you get grandma's cookbook collection. You don't normally see this happening with novels."
But for new books to be successful, they can't just be big, arty tomes. (Everyone already got a bunch of those from their grandmas, after all.) They have to, like last year's very successful, print-only Modernist Cuisine, do something new. And Lindgren's been doing this for long enough to know when something will work. One conspicuous new example, he says, is the Eleven Madison Park Cookbook, in part because its authors — chef Daniel Humm and general manager Will Guidara — made a book that instantly reminds readers of restaurant classics like Ferran Adrià's El Bulli books and The French Laundry Cookbook, while at the same time rethinking what a cookbook needs to be in 2011. In addition to the high-gloss cavalcade of perfectionist terrines and composed salads graced with uniform fennel "tears," for example, the reader gets a comprehensive 30 pages filled with 230 simple, approachable, "building block" recipes.
That "think different" approach is not a coincidence: No company has been more successful than Apple at transforming consumer products into lust objects, and Humm and Guidara disclose in the EMP cookbook that they looked to "corporate giants" like the one in Cupertino while working to make their restaurant more successful. The book itself — a stark, white dust jacket, the restaurant's logos etched in silver — even recalls many Jobs-ian design cues. The book even has an e-mail address in its opening section. "We are here if you need us," remind the authors. It might be the world's first cookbook to offer tech support up front.
Humm and Guidara aren't alone. Despite its decidedly retro layout, Ferran Adrià's latest book, The Family Meal, belies its own bit of Apple influence: In going through the book, Lindgren noticed that the step-by-step photos comprising each recipe share the exact same aspect ratio as iPhone screens; even the juxtaposed instructional text bears an uncanny resemblance to the ubiquitous device's text bubbles. Consider that The Family Meal has been published by Phaidon, known for their big art books and very limited forays into digital counterparts, and the trade-off become obvious: Digital content providers are working to make their products look more like print products, while the information ecologies of print books come to resemble those of electronic devices.
But smartphones aren't the only information medium from which cookbooks increasingly seem to be pulling these days. Three new releases — Momofuku Milk Bar, The Art of Living According to Joe Beef, and Mission Street Food — feel less like traditional cookbooks and more like mix tapes. And I don't mean the cassettes you made for your girlfriend when you were 13. I mean Lil Wayne–style mix tapes that co-opt lots of copyrighted material, conform to unconventional narrative strategies, and somehow end up invigorating the medium. Recipes are bridged with interstitial essays and marked by guest-chef appearances. They are, in other words, not the food book equivalent of greatest-hits collections.
As a mix-tape cookbook, Mission Street Food uses interviews, comics, illustrated lists of great sandwiches — all before ever getting to photo instructions for dishes like ham-hock rillettes. It doesn't infringe on anyone's copyright, necessarily, but does present an annotated menu of a Noma knockoff dinner once held at the restaurant, later followed by a full-on René Redzepi "cover recipe" of sorts, for an oyster and tarragon puree. Of course, Mission is the first cookbook from the McSweeney's Insatiables imprint; McSweeney's also publishes David Chang's Lucky Peach quarterly.
Little surprise, then, that the new Momofuku Milk Bar from David Chang protégée Christina Tosi has a similarly po-mo (po-momo?) vibe. The book not only carries the mother lode of recipes from the rapidly expanding Milk Bar universe, it also allows Tosi to tell the stories behind her alternative versions of traditional desserts. In fact, Tosi gives equal focus to the origin story of each recipe as she does the recipes' ingredients. And her larger vision emerges from a remixed tale of childhood favorites: Kix, Ritz crackers, and Jell-O No-Bake Cheesecake. And after name-checking the Joy of Cooking, Tosi's Crack Pie recipe ends the book, tellingly listed as a "bonus track."
Chang's reach even extends to the Joe Beef book — he supplies the foreword ("What the fuck is Joe Beef?" Chang remembers thinking the first time he heard about the Montreal restaurant. "Do they serve Sloppy Joes?"). The restaurant, according its own website copy, serves "Old Montreal restaurant classics in the heart of Little Burgundy." The book, though, carries the subtitle "A Cookbook of Sorts," and is densely packed with lore and digressions, roasted marrow bones, horse steaks, a section on railroad dining car menus, a recipe for absinthe, instructions on how to build a sheet metal smoker, and baked oysters served on a radio (literally). It's disparate, scattershot. Yet again, it's the narrative that takes these elements and combines them into a single new form.
All of the books are, at least in part, about finding new forms. Even if many of these authors can be very precise with their instructions, their books come off as being less concerned with offering readers specific recipes, and more interested in just getting people excited to cook. When the future of printed cookbooks is widely regarded to be one focused on art books, that approach makes total sense.
The traditional publishing industry is being forced to innovate after years of resisting. It's hardly surprising that the country's best chefs — able to impress people under completely demanding circumstances (often on the fly, at eight o'clock on a Saturday, with a full dining room) — are leading the industry into its next chapter.
*This post has been corrected to show that Michael Psaltis does not represent Jose Garces.