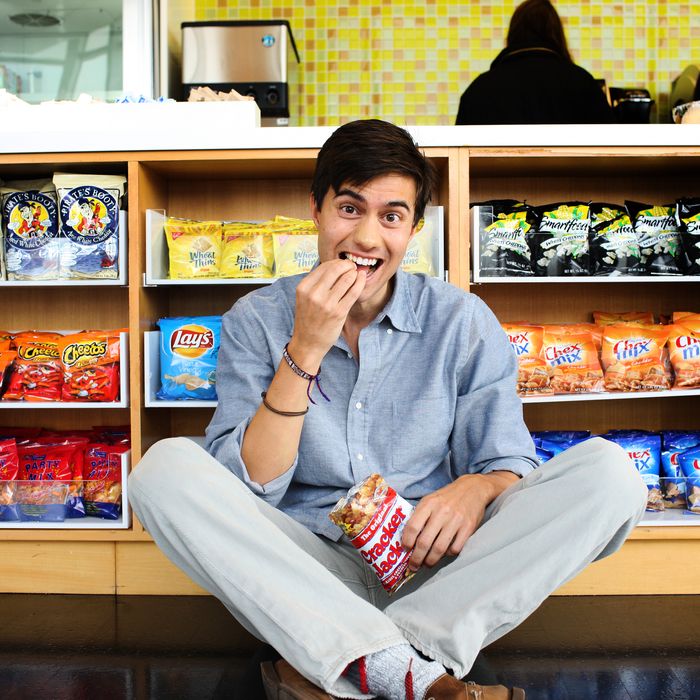 His palate is somewhere (wonderful) between kindgergarten and class.
Photo: Melissa Hom
Ricky Van Veen co-founded the wildly successful College Humor in 2000, cannonballing the Combo-loving, pretzel-M&M-hoarding; entrepreneur into a whole new world of sophistication. But Van Veen, who is nothing if not comfortable with himself, still hasn't given up his affinity for cheapo store-bought crap or his mother's life-saving pumpkin bread, although he has definitely developed a beautiful relationship with grown-up food — like swordfish at Il Buco and salted-caramel pudding at Joseph Leonard. Just don't manipulate him with any of those "butter transportation devices," otherwise known as Brussels sprouts, because, despite his baggies of gummy bears, he's probably the sharpest guy in town and totally knows they're not healthy. For more on Ricky's Pinkberry strategies, barbecue binging, and the little-kid cereal scattered all around his luxe pad, read on in this week's New York Diet.
Friday, October 7
For breakfast Friday morning, I had some cereal. But since I was out of milk, I just put some dry cereal — specifically, Quaker Oatmeal Squares and Basic 4 — in a bowl and picked at it while I checked my e-mail. I prefer mixing three cereals together, and have since I was a kid, but sometimes two will do, I guess. Gotta remember to get milk.
I don't like going out for lunch during weekdays. It takes a lot of time and I usually end up eating too much, because what else are you going to do at a restaurant? So I stuck with my usual "order in" policy and SeamlessWeb'd some Energy Kitchen. A chicken fajita wrap with two sides, corn and black bean salads. Lactose and I don't get along too well, so I left off the cheese.
I work in the IAC building — the glass Frank Gehry one at 18th and West Side Highway. The selection of free snacks there is excellent. Grabbed some PopCorners. According to the bag, it's "the new shape of popcorn." According to me, it's another shape of PopChips.
My friend Nick Kroll was in town with folks from his TV show The League to do press and perform their very funny live touring show. After seeing that, a few of us went to Locanda Verde for a late dinner. We split a bunch of stuff, including the mushroom salad, garlic chicken, and pesto pasta. Locanda has one of the best desserts in the city. I'm not sure what the name is, but it's basically a bunch of delicious cold things thrown into one giant heap to be shared with two-plus people. Unreal.
Saturday, October 9
Woke up hungry. Still out of milk. Grabbed a Special K bar from my pantry.
I live in the West Village and usually tend to stay down there for meals. However, when meeting two friends who live on the Upper East Side for brunch, majority rules. Thus, Fred's at Barneys. Not the first thing that comes to mind for brunch, but turned out to be a solid choice. I had a spicy tomato and poached egg dish. It's a face-lift-y kind of crowd there.
Later in the afternoon, I walked around the West Village with a friend, stopping at this relatively new place Kava for a scone and a water. Didn't know they had a little garden in the backyard to eat, but that was a nice find that was instantly used.
Dinner was at Il Buco, a low-key go-to. Being a proponent of the entrée splitsy, my friend and I shared the swordfish and penne pasta, sides of calamari and kale, and a couple whiskey sours. I love sharing. I figure that when you go to a dinner party, your friends don't give you menus, you just trust that nothing is going to be gross. So I feel the same about restaurants. Everything is going to be at least pretty good! Except I think New York Brussels sprouts are a scam. They're nothing but a butter transportation device at most of these restaurants!
Afterwards, had a mellow time at Peasant with a Hendricks and soda with three limes — a refreshing concoction, with invention credit due to my pal Sam Grossman at Comedy Central. Then a nightcap at Cafe Select, home of good-looking European people who make me feel just not cool enough.
Sunday, October 9
No milk. Another Special K bar. Then a banana and iced coffee from Starbucks on the way to Central Park, to take advantage of this 80 degree October day. What's so crazy is how I'll agonize over which "bars" have the fewest calories, and I'll choose one simply because it's 25 calories less, but then I'll eat a monster dessert like absolutely nothing. My theory is, if the calories are printed on the food, they count. If not, they don't count.
After the park, I went down to my friend Josh's barbecue on his rooftop. There are a few places where I eat uncontrollably: Thanksgiving, Super Bowl parties, and outdoor barbecues. This was no exception. I had some gross amount of chips and salsa, watermelon, orzo salad, hot dogs, hamburgers, brownies, and washed it all down with some sangria. Worth noting here that the burger was cooked by none other than 2010 and 2011 Burger Bash champion Mo Koyfman.
Do you ever notice that eating habits are in a whole new universe at barbecues? You don't go to Lure and say, "l'll take two Lure burgers, a hot dog, and a lobster roll."
Did some shopping after the barbecue with a friend who suggested a dinner trip to Omen, a usual favorite in Soho. I turned this invite down on behalf of my full stomach, at which point he proposed cooking a bite at home and watching the Breaking Bad finale. He had just bought a super-high-end rice cooker from Japan, which he was eager to take advantage of. Thus, a late rice bowl dinner consisted of rice, broccoli, mushrooms, and chicken. Delicious.
After a Breaking Bad episode for the ages, a few of us went to grab some Pinkberry. Yeah, I'll cop to three dudes rocking some late-night Pinkberry. I like to mix it up a bit there, but it always goes something like this: Three toppings, including a crunch (Captain Crunch), a fruity (usually strawberry), and a sweet (either Heath or Butterfinger). But here's the thing: You must catch the Pinkberry pourer before they start to tell them to please put stuff on the bottom and top. You need to be aggressive in the preempting of the pouring.
Monday, October 10
Still gotta get that milk. My dry cereal today consisted of Cinnamon Toast Crunch and Banana Nut Crunch. Here's the thing about Cinnamon Toast Crunch: It's delicious when wet, problematic when dry. That brown-sugar coating just gets all over your world. It's the Cheetos of cereal.
For lunch, I hit up the Fresh Direct vending machine in our office and got some chicken teriyaki with fresh pineapple and brown rice. This machine is amazing and looks like it's straight out of Japan. Yummy fresh meals, stocked new every morning.
For an afternoon snack, I made myself a cup of Combos and snack mix from these new nut and trail mix dispensers on our office floor, then grabbed a few gummy candies left over from a shoot in the office, then some Twizzlers from upstairs. I'm a candy addict. I think I'm oblivious to the sugar high, because I'm generally an oblivious guy.
I decided to take a night off and catch up on some DVR and reading, but mostly DVR. I heated up a Lean Cuisine from the freezer. The best L.C. is their chicken with peanut sauce and noodles. It's delicious. Like, how do you cram so much goodness into so little space? I basically just eat Lean Cuisine so that later I can make excuses to eat Twix all night.
Tuesday, October 11
Yep, still out of milk. At this point, the brown-sugar coating from my Cinnamon Toast Crunch is all over my floor. When I wheel my desk chair around, I can hear it crunching underneath in tiny crackles. Doesn't stop me from pouring another milk-less helping, obviously.
Had a six-inch turkey and ham sandwich from Subway for lunch with some barbecue Baked Lays and a Diet Sunkist. Ate some Cracker Jacks afterwards from the snack selection upstairs. About Subway, I don't criticize people who bash Subway. I understand why it's not right for everyone, but it's right for me.
After work I went up to visit a friend on the Upper East Side and ordered some Thai food in with her parents. The restaurant was Thai 51, which was pretty tasty. Much like the spicy tuna roll at sushi restaurants, the universal measuring stick for Thai restaurants is the pad Thai with shrimp, and theirs was solid.
Wednesday, October 12
Unfortunately, this story comes to an end with yet again a milk-less fridge. Only this time, I was saved by a miracle morning FedEx package delivery: my mom's famous homemade pumpkin bread with chocolate chips, shipped without fail every October. That immediately turned into breakfast. I love how my mom psychically knew how badly I needed it.
A rushed lunch at my desk consisted of a tuna wrap and chicken-noodle soup from Energy Kitchen.
For dinner, I headed over to Joseph Leonard for some comfort food: corn soup, chicken, and their famous hash brown on the side. Joseph Leonard was the first Gabe Stulman restaurant I invested in — Jeffrey's and Fedora being the other two — and waiting a little bit for a table to open up at any of them is a common occurrence. I guess it's the textbook definition of a good problem to have. Dessert was my usual salted-caramel pudding. Best.