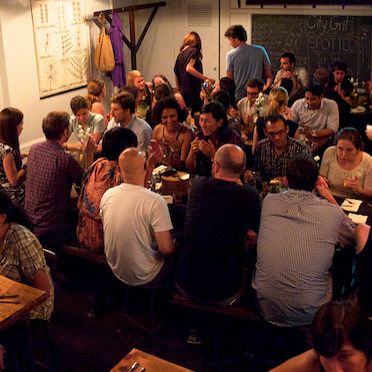 A recent dinner.
Photo: Elk Studios
It's been noted on this blog that supper clubs are evolving. City Grit started as a regular supper club, launched a few years ago by accomplished home cook Sarah Simmons (and it still functions that way sometimes), but it's morphed into a cookbook-launch venue, visiting-chef platform, and a space for more established toques to test out new concepts — among other uses. The dining society inhabits the antiques-laden showroom of WRK design, where at night, distressed wood tables are covered with plates and glasses, and ticket-holding guests dig into whatever's on the lineup that night. It might be a menu from a new cookbook, like that of Virginia Willis, a former kitchen director for Martha Stewart, who recently served a six-course meal to celebrate the launch of Basic to Brilliant, Y'all! (guests took home a signed copy as well).
"We are redefining the cookbook launch party," Simmons told us recently, offering full dinners with food and drinks, "versus a book signing and some wine and some passed hors d'oeuvres." It seems to be working. Food 52 will hold a dinner to commemorate the launch of its new cookbook next week, and My Last Supper's Melanie Dunea will celebrate her new book, My Last Supper: The Next Course, in November.
Simmons also wants to provide a space where chefs from around the country can introduce their work to New York. "Everyone you talk to who is not a chef in New York, everyone says nine times out of ten, I want to cook in New York," she says. To that end, Simmons and her business partner, Jeremie Kittredge, have wrangled rising stars like Leah Cohen, who recently cooked a sample dinner for her upcoming Asian restaurant, Pig & Khao. Coming up are evenings with Top Chef semifinalist Lee Ann Wong, and another Vivian Howard, owner of Chef & the Farmer, in Kinston, North Carolina. Simmons tells Grub she's talking to other chefs around the country and hopes to finalize more dinners soon.
And if you happen to be free tonight, there's a Southern-tinged Shabbat dinner, dubbed Shabbat Shalom, Y'all, happening at 7 p.m. Tickets are still available here. See the full lineup of upcoming events on the City Grit website.