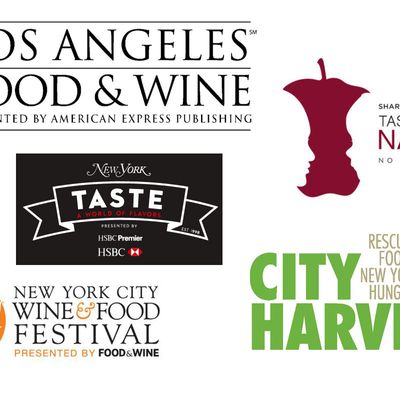 Just a sampling of autumn's events.
South Gate executive chef Kerry Heffernan has a busy month: "In October, we have Autism Speaks on the fourth, the Los Angeles Food and Wine Festival from the twelfth to the sixteenth, Project by Project on the fourteenth, City Harvest on the eighteenth, and then maybe two more," he says, ticking off his obligations. "And then we have another in early November." But Heffernan's schedule is hardly an anomaly. As the popularity of food-related tasting events has surged over the last few years, chefs are being asked more and more often to take time and money away from their own restaurants in order to participate.
The vast majority of tasting events are charity benefits, often from well-established causes like Share Our Strength and City Harvest, but there's also the five-day whirlwind of the New York City Wine & Food Festival, New York Taste, and smaller neighborhood events whose proceeds fund local projects. "There's been an absolute surge in neighborhood tasting events," says Liz Neumark, the CEO of Great Performances catering company. "They've become the new street fair."
The event format is a no-brainer for charity organizations, because having chefs and food at an event basically guarantees attendance. "Someone is much more willing to pay a premium price for a ticket where they'll get 30 tastings," says Jessica Gaffney, the organizer of Just Food's Let Us Eat Local, an event that gathered 35 chefs under the roof of the Altman Building on a rainy night in late September. NYCWFF founder Lee Schrager is more succinct in his analysis of the phenomenon: "Everybody likes to eat. Unless people stop eating and drinking, I think it's going to keep getting bigger."
But the demands of these events can take a toll on chefs whose schedules are already as full as their walk-ins. "It's a lot of effort and expense, and takes the chef and the people with the chef away from the restaurant on a busy night," explains Sisha Ortúzar, chef at Riverpark. "So it's quite a lot of pressure on a restaurant to be able to do this." Ortúzar says when the event-circuit is in full swing, as it is now, he sometimes does three events a week. Not only do these charitable events typically require chefs to prepare anywhere from 300 to 1,200 portions of food, they often require that chefs do so at their own expense.
For a smaller restaurant, the cost can be particularly significant: Amanda Cohen, the chef-owner of Dirt Candy, has to close her eighteen-seat restaurant when she attends events, which she limits to two a month. "We just take it as a loss," she says.
So then why do chefs bother, if they could spend their time cooking in their own restaurants for paying customers? Interestingly, advertising doesn't seem to be one of them. (The tasting portions "can give people an idea of style," says Ortúzar, "but there are so many aspects of a restaurant that can't be represented in food.") The main appeal is good karma: "It's kind of an easy way to give something back," says Dan Holzman, one of the owners of the Meatball Shop. "We probably wouldn't go so far out of our way for charity on our own." Ortúzar expresses a similar sentiment, and adds that the causes make it easy to suss out what's worth doing: "Our main criteria for deciding which events we take part in is, How strongly do we believe in and support what they're trying to help?" He adds that Riverpark is particularly dedicated to causes relating to hunger and children. "That's got to be 90 percent of it if not more. If you were to figure out the expense and time and food that it takes, it's not really worth it just for being in front of people."
Of course, chefs admit that the appeal isn't completely altruistic. The events also give chefs, who spend most of their time working in their own restaurants, a way to connect with one another. "It's worth it to be a part of the restaurant scene," says Cohen. "It feels like we're isolated when we don't participate."
Rebecca Flint Marx has written for publications including the Village Voice, the New York Times, the Wall Street Journal, and ELLE.