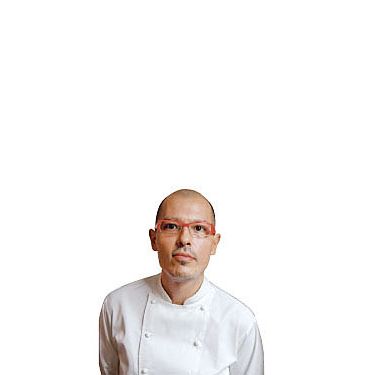 Leave the wine coolers at home.
Photo: Courtesy of the Hall Company
Yesterday, Michelin awarded César Ramirez's bodega-conjoined, BYOB Brooklyn Fare three stars, bumping it from an already impressive two stars to a position of once-in-a-lifetime success. The news left some with chills of hope and Brooklyn pride, others in a flustered state of WTF. And Ramirez? Well, the delightful news transported him … right back to the restaurant. After all, he tells Grub, "Wine is coming in four weeks and I have a lot of work to do."
Describe the moment when you heard about the third star.
The Michelin lady called me and she said, 'We've got some good news for you … " And then I really didn't believe her. But when the press started calling, I guess it hit me. I didn't cry but I was very, very happy.
Did you go right into celebration mode?
No, no! I'm here every single day and night cooking. We have to always work and change and make things better. Wine is coming in four weeks, so the experience is going to even be greater. Do you know how hard it was seeing people bring $5 bottles of wine "paired" with our food? Or even the expensive bottles. Borolo alongside first courses? Oh my God. That's just too strong! It's going to be so much better now.
What will the list look like?
Well, we're basically all sea food, so a lot of Champagne, white Burgundy, Rieslings, some sake — things to only enhance flavor.
After the news yesterday, you must have dipped into the stash …
Listen, I keep my head down low. My best customers know that about me. People who come here just because it's a hard reservation, they don't even get it. The ingredients here, there are none better. Nothing better, that's the absolute truth. I don't need to be on TV; I don't need twenty restaurants to make me feel good. I don't need anything but to cook.
Well, maybe you'll open at least one more place … please?
I'd like to see this place grow and get some additional space here. But that's it. We don't make any money, you know. Nothing. But I've been doing this for 24 years and it's my life. It makes me happy and that's all that matters.
Related: Michelin Stars Revealed: EMP and Brooklyn Fare Soar Into the Three-Spot