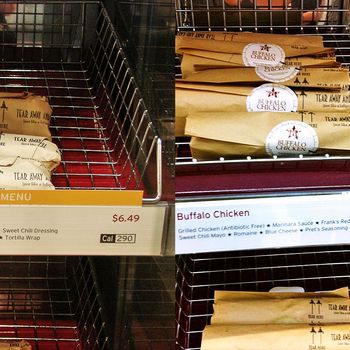 When too much of a good thing becomes too much of a bad thing.
Photo: I. Alperstein
A Pret-devoted source has alerted Grub Street that her "insanely good" buffalo chicken sandwich from Pret A Manger has become almost 100-calories more fattening since last week. "I knew that its gooey, cheesy deliciousness far exceeded the flavor expected from its 290 calorie count last week and I was SURE they were fudging the numbers … just today I saw that they upped the calorie count to 370!" It took some serious investigative reporting, but low and behold, while the 270-wrap was marketed under the Summer Light Menu, and the 370-wrap is not, the ingredients remain almost exactly the same, and both wraps are still labeled "Buffalo Chicken." But the count definitely has grown! Makes us think that Pret is f'ing with that falafel count too. Crap.