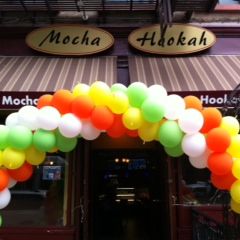 More to inhale on Atlantic Avenue.
Photo: Bococaland.com
Had Paul Giamatti not caught our eye while standing in front of a bizarro storefront called Mocha Hookah, we might not have noticed the new, neat little joint in the old Fountain Cafe space. But he did (en route to Tazza, his everyday fave), and so we did some digging. The just-opened spot serves gelato with its hookah hits, along with chocolate baked goods, classic Middle Eastern dishes, and strong coffees. The chef from Fountain has stayed put, as have some staffers, but the backroom has the real goods, along with some dazed and confused neighborhood kids, and a TV broadcasting CNN.