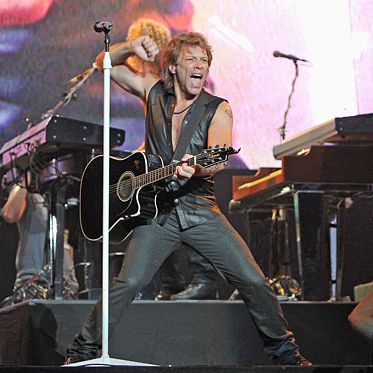 When he's not rocking out, Jon Bon Jovi heads up the JBJ Soul Foundation, and today the charity group unveils its latest effort, the "pay-what-you-can" Soul Kitchen in Red Bank, New Jersey. The aim is to provide an alternative to fast food, with dishes like beet salad, gumbo, roast chicken, and barbecued salmon (full menu below); anyone who's livin' on a prayer and can't make a cash donation can volunteer instead.
Is this really a restaurant for everyone?
Yes. Let me change your mind, because you're imagining a tray service type of soup kitchen and it's the opposite. Picture the coolest brasserie in your hometown, that's what this is. It's the hottest-looking restaurant in this town. We have to get rid of a few stigmas attached to the word volunteering and making a difference.
Are you secretly fulfilling some restaurateur-like dream here?
Not even close. It's not connected. My job has nothing to do with being a restaurateur. I'm an expert at washing dishes, but I can cook less than zero. I'm the perfect dinner guest, however, because I'll bring a great bottle of wine and clean up for you afterwards. I am part-owner in a Mexican restaurant, but I like to say, I was in the wrong place at the right time, and that's how I ended up doing that.
Safe to call Soul Kitchen a health-food restaurant?
No. It's healthy, not health food. Healthy has a better connotation. You won't see burgers and fries there; it's organic, healthy, good-for-you food, and vegetarian stuff too.
Personally, any foods you won't eat?
I don't go out of my way for cucumbers and raw carrots.
What about anchovies? Because there's a fried anchovy place called Bon Chovie [who will be at the Grub Street Food Festival], you know …
There is? I love that! But son of a gun, he's stealing my gig. Okay, in lieu of payment for trademark infringement, I'll just have him come work at Soul Kitchen. Can you arrange that?

Soul Kitchen Menu [PDF]