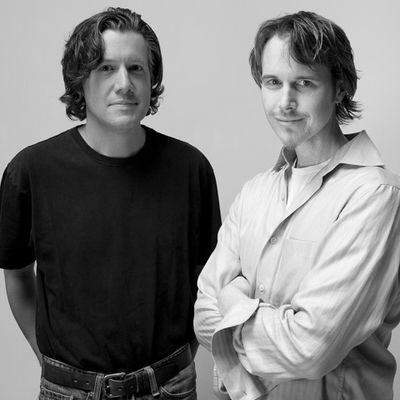 Nick Kokonas and Grant Achatz.
Photo: Lara Kastner
Yesterday at StarChefs.com's annual International Chefs Congress, Grant Achatz sat down with the New York Times's Kim Severson during the keynote address and revealed some, well, weird ideas. But, because this is Grant Achatz we're talking about, after all, these kooky plans may very well become the Next. Big. Food. Trends. Then again, at this point, maybe Achatz is just messing with the establishment.
Plate Art: No, we're not just talking about the abstract squiggles of sauces. We're talking about actual drawings. Stick figure drawings. We first learned back in August that Achatz's upcoming menu theme at Next will be based on childhood but since then, few specifics have come out. Yesterday, however, he revealed one item off the menu: a plate of walleye with drawings of "a stick figure boy or girl" amidst "tempura batter soil and fluid gel water."
Waitstaff Costumes: Though it's doubtful that restaurants like Alinea will ever have its waitstaff resemble Jennifer Aniston's Office Space character (flair!), Achatz pondered the effect that uniforms may have on the dining and tasting experience. Describing a tomato course he once served at Alinea, he mused, "[If] someone serving it is dressed in red, does it make it taste better?"
Southwestern Cuisine: When asked about which regional cuisine may next have a big moment, Achatz expressed a desire to see Southwestern food back in vogue, rather than relegated to Santa Fe-style salads at The Cheesecake Factory. So we have to pose the question: Does that mean Tex-Mex at Next?