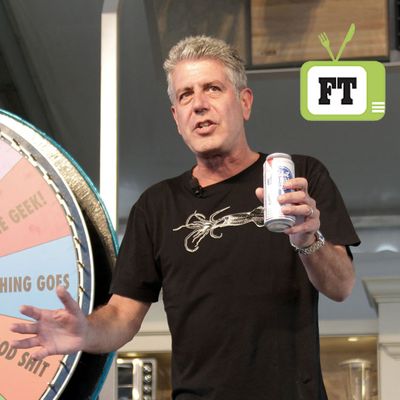 He doesn't hate everything!
Photo: Alexander Tamargo/Getty Images
Anthony Bourdain doesn't always have nice things to say about his food television peers — he's called Guy Fieri "ridiculous," Sandra Lee "pure evil," and Next Iron Chef America "cheesily cheap-jack," among other insults. But the No Reservations host hasn't totally tuned out food TV. In fact, he told Grub Street that he's "actually pretty optimistic" about where the genre is headed. Yes, "the moronic inferno will continue, but I think there will always be flukes, and good guys out there who will manage to do good work. You know, for every dumb cop show, or every five dumb cops shows, there's always going to be something like The Wire." Here are seven food shows that Bourdain likes — some of them are even still in production!

The Barefoot Contessa: "I don't really tune in deliberately to see Ina Garten, but every time I stumble across her show, she is cooking food correctly by my way of thinking. If she is roasting a chicken or making mashed potatoes, she's doing them really, really, really well … I saw her making mashed potatoes once, and I was like, Wait a minute, that's, like, very close to the way Robuchon would make them. I mean, she was running them through, like, a ricer or a food mill. It was very cool."
From Spain With Love: "I actually saw something on the Cooking Channel … I don't know who the woman is; I've never seen her before. But it is a stunningly good show. It really sticks out in what's largely a desert. It has good production values, interesting places. It's basically the same genre as what I do. It's really good."
Avec Eric: "Eric has an enormous reputation and institution to protect; he has to be a diplomat. But believe me, he's not beneath cracking a dick joke."
Good Eats: "I think Alton Brown's Good Eats was really valuable and smart," says Bourdain. "If the intention is to inform and get people to eat a little bit better, and possibly cook a little bit better, then I'm for you."
Molto Mario: "Old episodes of Molto Mario, I love whenever I can catch them. I don't know if they're still airing, but I consider them the benchmark for good, traditional cooking shows."
Anything from Julia Child: "The notion that you have to be a professional [chef] to do valuable food television is ridiculous. I would never suggest that. I think the most important person in American gastronomy was Julia Child."
… And anything from Jacques Pépin: "He's unimpeachable."
More "Feeding Tube":
Buttered Up: A Look at Paula Deen's Financial Empire
Jonah Hill Totally Dissed Paula Deen on TV
Ten Important Moments in Food-TV Recipe History
How Food Television Changed the Way We Eat
Eleven Real Secrets Behind TV Food Styling