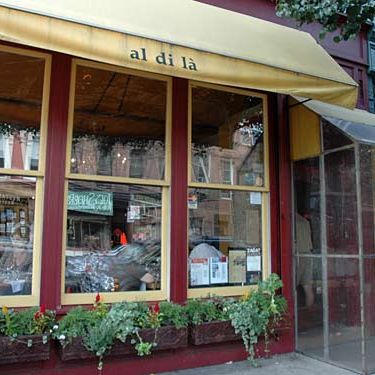 Coming soon to Crown Heights.
Photo: Stephanie Land
Park Slope fine-dining favorite al di là was approved last night for a liquor license on 791 Washington Avenue in Crown Heights. Brownstoner has it that the new location won't be known as al di là, but it will serve Italian food, albeit a more "simple and affordable" menu than in Park Slope, with lunch and dinner offered. The space has 36 seats inside and 38 outside, and is currently home to Teddy's Restaurant.
Meanwhile, Treats Truck owner Kim Ima, one of the most vocal opponents to food-truck crackdowns, has decided to expand beyond wheels: She's planning a café in the Cobble Hill Carroll Gardens area. We told you Brooklyn was where it's at.
Al Di La is Expanding to Crown Heights! [Brownstoner]
Treats Truck Opening Breakfast and Lunch Spot [Zagat Buzz]