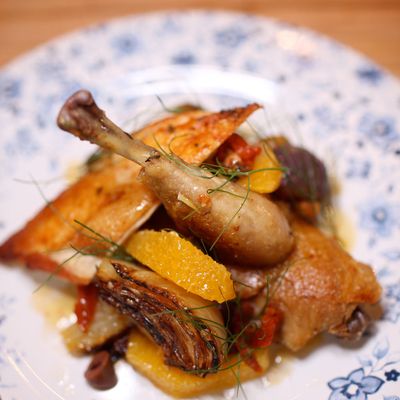 Roast chicken from Saxon & Parole.
Photo: Melissa Hom
Like it or not, all signs of summer are fast disappearing. But good-bye to sun and warmth also means hello to all the amazing food that fall brings with it: brothy stews; sweet, earthy root vegetables; tender roasted meats; and of course lots of warming whiskey drinks. (Bloggers have to fortify, after all.) To help everyone prepare for the sweater-weather months ahead, Grub Street has rounded up the 41 new things we're most looking forward to trying this fall. The list is a mix of upcoming dishes from new restaurants, new dishes from old restaurants, and a few season-appropriate favorites we've been missing all summer. So check out the list, then take to the comments and let us know what it is you can't wait to get your hands on.
And when you're done checking out our picks, make sure you head over to our other Grub Street editions — Boston, Chicago, Los Angeles, Philadelphia, and San Francisco — to see what they're looking forward to this fall.