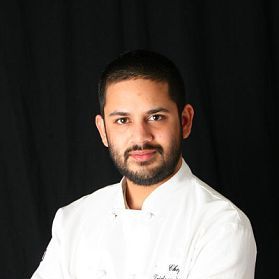 Adara chef-owner Tre Ghoshal.
Photo: Courtesy Adara
Grub Street doesn't usually cover the wilds of New Jersey, but an announcement today caught our eye: It seems that on October 12, the town of Montclair will get Adara, an "avant-garde" eatery headed up by chef-owner Tre Ghoshal (who began his career under Joe Bastianich). Adara will explore "the relationship between food, art and technology" by means of fancy equipment like "immersion circulators, liquid nitrogen, the Anti-Griddle, the Smoking Gun, the centrifuge and more." There will be three-, five-, and seven-course tasting menus, plus a $165 "Grand Tour" option, which "allows diners to sample a comprehensive display of its many delicacies, including the white truffle envelope, smoking Hamachi and the bittersweet chocolate orb." So there you have it: Molecular gastronomy has landed in the Jersey burbs. We're thinking the Immaculate Infatuation boys should probably skip this place.
Adara, 77 Walnut St., nr. Grove St., Montclair, NJ; 973-783-0462
Menu [PDF]