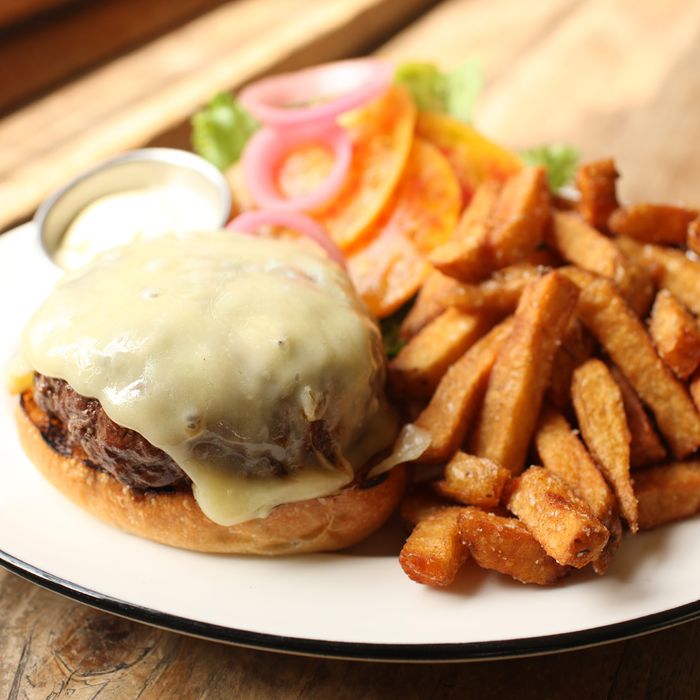 Diner's burger and fries.
Photo: Melissa Hom
Each week on the Food Chain, we ask a chef to describe a dish he or she recently enjoyed. The chef who prepared the dish responds and then picks his or her own memorable meal. On and on it goes. Last week, Blue Bottle Café's pastry chef, Caitlin Freeman, found ham perfection at Chicago's the Publican. Now it's time to see what the Publican's chef de cuisine, Brian Huston, has enjoyed recently. Take it away, Brian.
Who: Brian Huston, chef de cuisine at Publican, Chicago
What: Burger and fries
Where: Diner in Brooklyn
"I had an amazing burger and fries at Diner in Brooklyn. It had a great burger-to-bun ratio, and it was hot and juicy. But there was something else. I don't know, maybe it was the company, maybe it was just the atmosphere in the dining car, but it felt like the perfect place to eat that specific food — just like eating seafood in the Mediterranean. You know, it's like, Why can't I always eat my burgers in Brooklyn?"
Diner chef Sean Rembold responds:
"Essentially, since we're utilizing whole animals that we bring in from our butcher shop, Marlow & Daughters, a lot of times what's being ground is the scrap — the trimmings from other cuts of meat. If you come in Tuesday, it might be an animal from upstate New York; or if you come in Friday, it might be from Vermont or Pennsylvania. I know farm-to-table is out of style, but we do try to operate under that. Also, a lot of the meat is dry-aged here at our butcher shop, so it will have that aged-steak flavor. A lot of times it's aged for a week before it arrives, and then another three to four weeks here. It doesn't hurt that we sell a lot of burgers daily, so the grind is always fresh, ground that morning. Everything else is pretty simple. We make our own mayonnaise; we're using salt and pepper — there are no bells and whistles attached.
The buns are from Amy's Bread. We do toast them. We toyed around with brushing them with butter, but we decided we'd rather have a higher fat content and just kind of toast them without butter. The fat content is something we're always working with. Animals tend to be leaner certain times of year. We're just kind of always eyeing it and toying with the fat-to-protein ratio. And then the fries are really amazing potatoes we're able to obtain from Sheldon Farms [upstate] or Lancaster Co-op in Lancaster, Pennsylvania."