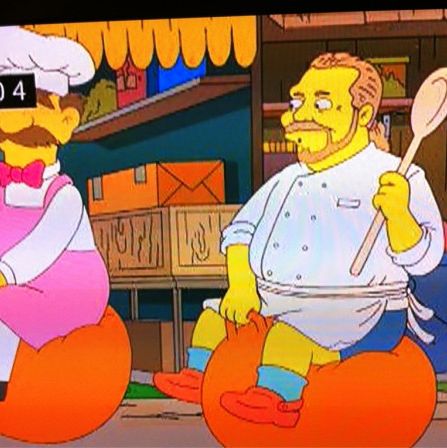 It was Michael Symon's birthday, too, you know.
Photo: Matt Selman, The Simpsons
Dear Lord, he's popular. Tweeting hearts were aflutter for Mario Batali's 51st birthday, which was spent blissed-out at the new, sexified Le Bernardin. The folks from The Simpsons even posted a sneak peek of his cameo on an upcoming (October 9) show. Batali got shout-outs from every gastronome from Eric Ripert behind the stove, to Ruth Bourdain — who, as a birthday gift, granted him permission to rescind his contract with The Chew. Batali, like a good little boy, tweeted thank-you notes until, well, six o'clock in the morning.
From The Simpsons: Happy Birthday to @Mariobatali from your fans at The Simpsons!
From David Chang: i am a moron, i saw you today and totally forgot. happy bday mario…you rock, always thankful all of your help You rock!
From Ruth Bourdain: As a gift, I've arranged to let you out of your contract to do "The Chew." Run. Now. And never turn back.
From Eric Ripert, part 1: Happy birthday from all of us!!! The kitchen is so excited (see picture)
From Eric Ripert, part 2: And now the Cake……….
From Eric Ripert, part 3: Oh Man if U could just become the next food food critic of the NY Times (: