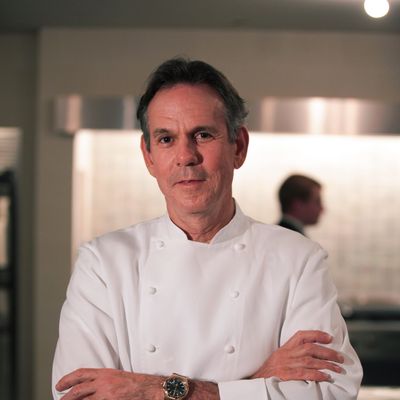 His need to nurture, eat chicken livers, and the ineffecient Buddha in his bedroom.
Photo: Andrew Barris
"Do you really like it on me?" asked Thomas Keller sincerely, of a $30K rose-gold watch encircling his fuzzy, tanned wrist, on loan from Vacheron Constantin. Grub assured him it looked very handsome. "Not too feminine?" Nooo, chef Keller, very manly. "Okay, because I usually only wear silver, so this is a new experience for me." Yeah, well, the experience of spending an evening at one of New York's most sprawling, Gossip Girl–like mansions, lounging around a kitchen with Keller (who is, on the record, easier to talk to than a well-paid shrink) was kind of new to us, too. The private dinner, hosted by Vacheron Constantin's CEO Juan Carlos Torres, honored the brand's first ever New York boutique. The connection between chefs and watches? "We are control freaks. Precision is everything."
Let's be direct: Why are you so perfect?
The only reason I can be this way is because I have these young individuals who are as dedicated as I am. [He points to his team of ten or so.]
Is there a Grant Achatz in there?
Well, Grant comes along once in a generation. But Eli Kaimeh, who's at Per Se right now, or Timothy Hollingsworth, who took over for Corey Lee, or Corey Lee himself. There are too many to name, honestly.
But your nice disposition, that's from inside …
Eric Ripert gave me a Buddha once years ago; it's in my bedroom, so maybe that's rubbed off on me? I don't know. It doesn't help me get any more sleep, that's for sure.
Do you ever snap?
Sure. I was a little mad earlier today. We've been trying to launch this Finesse app for months. Apple has kicked it back three times for unknown reasons. It was supposed to launch today and there was another setback, so I was upset.
What does an angry Thomas Keller look like?
I cut people short, I say how disappointed I am, and people quickly understand. When you think about what a chef does, it's all about a flow. So, when anything interrupts that flow, you get upset. The person who gets in your way, who breaks the dish or forgets the order, that's the person that's going to get the brunt of the frustration. But then it's over.
Pretend you're a regular guy: What's your dream New York night?
Going to either Yankee Stadium or CitiField and watching a baseball game, eating a hot dog, and drinking a beer. That's a perfect night.
And a night out as a chefy guy?
Oh, I'd go to Yakitori Totto, sit at the bar, and eat the chicken livers, which are amazzzing — if you get there before they run out. Or I'll always love Cafe Boulud with Gavin Kaysen. Or I'll go to Marea and have crudo at the bar, and have sea urchin with the lardo over it, and then a bowl of the fusilli with the red-wine-braised octopus and bone marrow, and a glass of Brunello or something. I also love Giorgione downtown; I have the fava-bean salad, lamb chops, and a slice cheesecake, every time.
Where will you be ten years from now?
Hopefully I'll be on a beach somewhere. I don't know. I hope that I'll have the same feeling of excitement, the same feeling of nourishing people that I have today. I learned a long time ago that I'm a nurturer. I like to give people pleasure in any way I can, weather it's my team or my guests. [A cocktail waitress then sails by, wearing a diamond Vacheron Constantin watch.] Hey, I'll trade you all the food in the world for that watch…