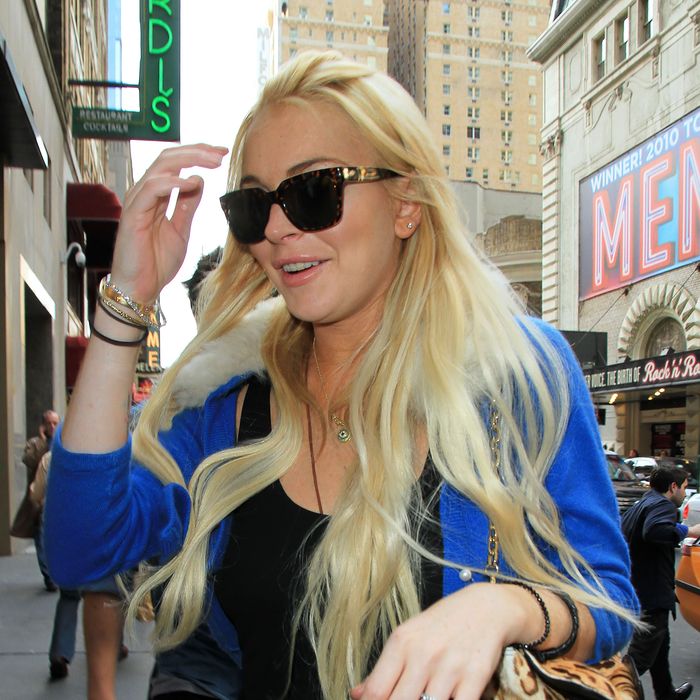 LiLo was seen lip-locking at Beauty & Essex.
Photo: Jackson Lee/Splash News
Fashion Week may be behind us, but there's never a shortage of date-swapping, lip-locking celebrities hitting New York's culinary scene to keep us entertained. Ryan Reynolds left the Darby solo last night, while Justin Timberlake reignited old flames with Jessica Biel there last weekend. Certainly one to keep us guessing about his romantic interests, Timberlake was also spotted getting post-clubbing pizza with Scarlett Johansson — who "cozied up" with Bradley Cooper at Provocateur the other night. Lindsay Lohan caused a scene at Beauty & Essex (for the second time this month) when she gave her mom a sloppy surprise for her birthday. But it wasn't all drama this week; there were plenty of well-behaved stars out on the town, too. More celebrity sightings straight ahead.
Beauty & Essex: Lindsay Lohan's mean-girl antics — terrorizing a photographer, throwing a drink at a cocktail waitress — continue this week at various spots around the city. One notably unsettling incident: Lohan returned to the restaurant to celebrate her mom's 49th birthday, and the two ended the night with a serious make-out session as Lohan's younger brother sat awkwardly next to the pair. [Rumor Fix]
The Dutch: Jake Gyllenhaal visited the restaurant's bar on Wednesday, where he was (unsurprisingly) surrounded by a group of fawning women. [Page Six/NYP]
The Darby: Justin Timberlake and ex Jessica Biel fueled rumors of their possible reconciliation when they were spotted dining here on Saturday, after viewing a boxing match together earlier that night. [Contact Music]
Ryan Reynolds met friends at the supper club last night. Notably absent was Olivia Wilde, whom the actor's rumored to be dating after they shared lunch at Sant Ambroeus and a strolled through Tribeca last weekend. [INF Daily, Us]
Double Seven: Mick Jagger celebrated the release of his new album, SuperHeavy, at a star-studded party. Celebs in attendance included Daphne Guinness (whom, by the way, you shouldn't expect to see dining out in New York, even with an exhibit at F.I.T.; "I'll eat when I'm dead," Guinness recently told The New Yorker), Lorne Michaels, Tommy Hilfiger, and Gayle King, to name a few. The rocker shared a booth and a champagne toast with L'Wren Scott, A.R. Rahman, Dave Stewart, and bar owner Jeffrey Jah. [Page Six/NYP]
Il Cantinori: Jennifer Aniston and beau Justin Theroux are getting serious, shopping for kitchen supplies at Sur la Table and double dating with Ben Stiller and Christine Taylor on Thursday. Aniston ate the branzino (no oil, no dressing), and Stiller picked up the tab at the end of the meal. [INF Daily, Popsugar via Us]
Marea: Ryan Seacrest visited Barry Diller's table for a quick hug, where Diller was sitting with Barbara Walters and Oscar de la Renta. [Page Six/NYP]
The Mark: Though perfectly comfortable surrounded by bodyguards while dining here on Wednesday, Princess Cristina of Spain was thrown off her game and said to have nervously giggled when she spotted Woody Allen at a neighboring table. [Page Six/NYP]
1Oak: And this is where it gets interesting: Timberlake and Johansson reportedly left 1Oak together the same weekend, and got pizza (could it be Artichoke?) nearby at 5:30 a.m. — even celebrities crave a good slice at the end of the night — before heading back to her apartment. [Entertainmentwise]
Provocateur: Not one to go unnoticed, Scarlett Johansson quickly stole Bradley Cooper's attention from model Cheyenne Tozzi, and the two were said to be flirting and holding hands all night. [NYDN]
Rose Bar: Lebanese Prime Minister Najib Mikati hosted a black-tie event at the hotel, and those who weren't quite ready to call it a night continued the party at Rose Bar. [Page Six/NYP]
Sfoglia: The Italian eatery served its award-winning Bolognese, among other dishes, to Lance Armstrong, Mandy Moore, and the president of Tanzania this week. [Grub Street]