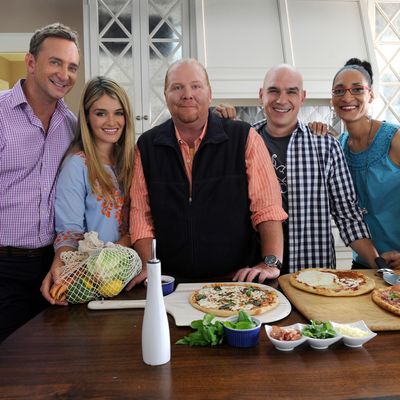 The gang's all here.
Photo: Ida Mae Astute/ABC
This coming Monday, television history will be made — so say the people over at ABC, who've been touting their daytime-soap replacement, The Chew, which premieres on Monday, as a revolution in food TV. But is the show — co-hosted by Mario Batali, Michael Symon, Clinton Kelly, Carla Hall, and Daphne Oz — really going to shake up the food-television formula? Grub sat in on a rehearsal taping yesterday, and after sitting through the hour-long session, our take is: Eh, not really.
The warm-up guy, comic RC Smith, joked with the largely suburban and out-of-town studio audience in between takes ("you look like a bag of Skittles," he told a trio of bright-cardigan-wearing Connecticut housewives), while the cast practically leapt around the spacious set, reassembling for a half-dozen or so zany segments. The preplanned bits had an improvised energy to them, like a cooking segment that had Molto Mario throwing together some bucatini with zucchini, white beans, and chile flakes; and Carla Hall's "It's Gon' Be Okay" segment, where she made a soup intended to salvage a limp, overcooked zucchini. The other cast members watched while making off-the-cuff comments. (Clinton Kelly: "Not much to do with a limp zucchini, is there?" Oh, Clinton!)
If Batali is the expert of the show, Kelly is the pizzazz guy, the one who only wants to serve one-handed food at his dinner party, "because, you know what's in the other hand — a cocktail!" (At one point, he slyly told an orange-clog-wearing audience member, "You should see my other show," referring to TLC's What Not to Wear.)
Hall's role is to play the resident klutz — after the show, she told us that her recurring lessons on fixing mistakes in the kitchen are meant to help the audience get over the "fear of failure" that she says stops many people from cooking. Michael Symon, meanwhile, brings his Iron Chef personality to the show and has one segment: His recipe for skirt steak and chickpea salad with feta and mint has just five ingredients, takes five minutes, and costs $5 or less a serving; "5-5-5," which ended with a little reality-show-style manufactured drama as the audience counted down from ten. At least when the show starts, "5-5-5" will be a recurring segment for Symon.
And then there's Daphne Oz. We hate to say it, but she is the show's weakest link. (She's also a newbie: Her twenty-second "herbal remedy" segment had to be retaped three times.) She bears the dubious honor of being the show's resident expert in "gassiness," a topic that, no joke, came up twice during the taping. Granted, Oz is the youngest, most attractive, and least known of the cast members. Owing in no small part to her dad, Dr. Oz, she's got enough credibility in the audience's mind to persuasively dole out nutrition tips, but being branded as the young, cute co-host means she's sometimes tasked with playing the role of the dolt: During an audience "Chew & A" segment, Hall proffered a "progressive" dinner party as a potential entertaining suggestion, which prompted Oz to remark, "A progressive dinner party? I have no idea what that is."
So, The Chew is most likely not going to change the face of food TV. There's nothing here that hasn't been done before. It's sassy entertaining tips, timed challenges, and quickie recipes that emphasize spontaneity over precise ingredient measuring. The new part, we'd say, is combining all of these elements onto one show. There might be enough variety here to draw viewers initially, but the big question is whether there will be enough substance to keep people tuning in.