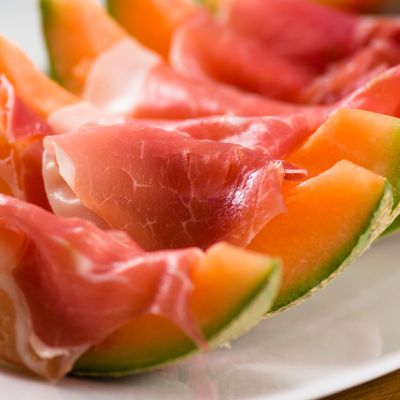 The prosciutto won't protect you!
Photo: iStockphoto
Is this how it's going to end for mankind? Death by melon? We told you last week about the listeria outbreak that's affected the country's cantaloupes, and now the Guardian brings word that the outbreak — which has caused more than 70 illnesses and more than a dozen deaths, making it "the deadliest food outbreak in the country in more than a decade" — is only going to get worse before it gets better.
That's because "the incubation period for listeria can be a month or even longer." FDA commissioner Margaret Hamburg expects to see cases through October. How will you know if you've got a tainted melon? "The recalled cantaloupes may be labelled 'Colorado Grown,' 'Distributed by Frontera Produce,' 'Jensenfarms.com' or 'Sweet Rocky Fords,'" the paper reports, before adding, ominously, "but not every recalled cantaloupe is labelled with a sticker, the US Food and Drug Administration said." Sweet Rocky Fords, that's scary!
(In related, less surprising, food-illness news, Tyson has also recalled more than 100,000 pounds of ground beef because of potential E. coli contamination).
Listeria outbreak expected to cause more deaths across US in coming weeks [Guardian UK]
Earlier: Cantaloupe Is Killing People