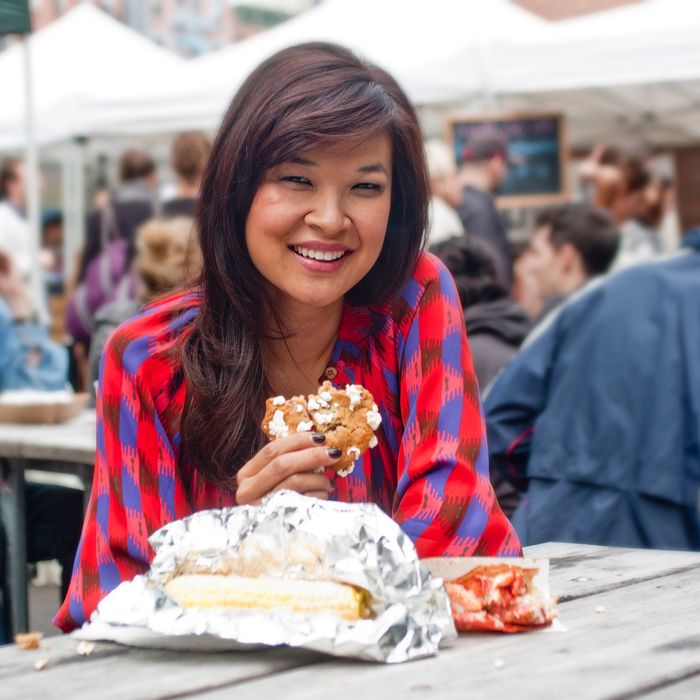 Pak at the Hester Street Fair.
Photo: Jed Egan
Even though SuChin Pak is idolized by teenagers for her gig on MTV, it doesn't preclude jaded New Yorkers from coveting her, too. After all, Pak co-founded the Hester Street Fair, which brings together some of New York's best fashion and food (and, of course, she helped put together this year's forthcoming Grub Street Food Festival). In fact, her almost-universal likability is one of the reasons why DailyCandy just appointed her their new correspondent, a big gig that will involve, hopefully, many a paid meal. "I try to make all my business meetings over lunch, if ya know what I mean," says Pak, who proudly grew up with what she calls a "daughter of immigrants" mentality. Such a mentality might also explain why Pak believes in "panfrying everything" and still lives with her brother (who's opening a restaurant) — and could also be the reason she likes to be "done eating and in my jammies by 9 p.m." For tales of alcohol aversion, feelings on KTown, and current favorite restaurants, read on in this week's New York Diet.
Friday, September 16
I started my morning with two Natren probiotics dissolved in water. Not delicious, but it's worth it. I get migraines, and they're traced back to digestion, so this helps! Then, I have the same two breakfasts every morning. Phase one: I panfry a piece of wheat bread with a little bit of olive oil, slather it with raw almond butter, and have a large glass of green tea matcha. I panfry everything. My family was immigrants; we didn't have appliances. Plus, toasters are super-crummy. That was enough to get me started on tackling e-mails.
About an hour later, I had one egg and some Brussels sprouts. Is that gross? Suddenly I'm self-conscious.

For lunch, I met with DailyCandy's new editorial director, Ashley Parish, at Lure, where you can't help but feel glamorous. We ordered rounds of sushi and then more rounds of sushi. Love the fancy work lunch! I'm not a vegetarian, but my friend Graham Hill, who started Treehugger, started this trend about only eating meat on the weekends. Do you know how environmentally hazardous meat is to the planet? So I've been doing seafood only for six months now, and truthfully, I've lost the taste for red meat.
For dessert, we had delicious mini-cupcakes from Millie Peartree Cupcakes and More, a newbie entrepreneur I love. I had a banana-cream-pudding cupcake, but honestly, I'm one of those people who can't just have one bite with sweets, so I try to save those binges for the weekend. In between meals, I drink decaffeinated tea all day. Mint or Bengali-spiced tea.

Dinner was at one of my favorite local spots, An Choi, to satisfy my vicious pho cravings. They have a veggie pho with tofu that is so tasty and fresh. My good friend Peter Lee was in town, so we got a big group together. My boyfriend makes fun of me because I could exist solely on Asian food, but this place is for everyone, trust me. After dinner, we headed to White Star for "drinks," which I had none of, because I don't drink. It's a gift from God that I don't drink. I'd be the worst, sloppiest, sluttiest drunk! It was a wild night for me, though, because I really don't like staying up late. I'm in a long-distance relationship — there's no reason to be out past 7 p.m. And since I'm always the sober one, I just kind of feel lame! I usually make things up, like pretend I have an event, so I can be home in bed."
Saturday, September 17
Market day at Hester Street Fair! I like to start those days with steel-cut oatmeal and tons of dried fruit, which plump up when you cook them. Since I eat everything at the fair all day long, I have to pace myself.
The fair was started by myself, my brother Suhyun, and two friends of ours, Adam Zeller and Ron Castellano. We rotate 60 vendors every Saturday at the market. We have everything from Luke's Lobster to ic- cream sandwiches from Melt, macarons from Macaron Parlour — the bacon and cream cheese macarons are not to be missed — and truly, I try to eat everything, besides the red meat now. So I had a lobster roll, grilled corn from La Sonrisa and for dessert, the best cookie ever from Fatty Cakes — the Movie Theater Cookie, which has chocolate chips, buttered popcorn, and Swedish fish. Heaven!

The big Mayweather-Ortiz fight was at night, so my brother, who is gearing up to open up his own restaurant called PakoTaco, cooked for everyone. He made the classic marinated Korean short rib with fresh avocado and his special red cabbage slaw, topped with homemade kimchee. My brother is a mad scientist in the kitchen and everything we do, we do together. After he makes something, we ask ourselves, "Could this be something you could crave and become addicted to?" If the answer isn't yes, there goes the recipe. Of course he panfries everything, too!
Sunday, September 18
I ordered in my favorite breakfast from a tiny local spot, Café Petisco, who make this breakfast burrito on weekends that is just perfection: scrambled eggs, avocado, black beans rolled in a perfectly crisped flour tortilla. I ate while my makeup artist and hair stylist, Elisa Tallerico and Betsy Reyes, show up to get me ready for some press that will be coming by to cover the market.

I'm in love with Japanese street food, so I had lunch from Mimi and Coco, a new Hester Street food vendor. I tried their shrimp teriyaki ball covered in cheese and grilled corn.

Dinner was at a new spot, seriously the best soba in town: Cocoron. They actually bring you your soba over a flame so every bite is piping hot. The interior was done by a Japanese woodworker by hand and the place seats just about twelve people. It's so intimate, my favorite restaurant in the city right now. There's a tofu cheesecake there; I can't even tell you. Yes, I love my Asian food, but it's not like I eat crickets and fish eyeballs; most of the Asian food I eat is very fusion, or Americanized.

Monday, September 19
Same breakfast as always, plus Concord grapes, which are in season and too hard to resist. Koreans love Concord grapes. My parents would spend a long time picking the perfect boxes. So they trigger a real flavor memory for me. I walk around with purple-grape-mouth for the entire season. It's like grape Christmas.
Another DailyCandy lunch meeting! We went to the newish hotel, Nolitan, and ate at Ellabess. It was basic, totally fine. I had chilled broccoli soup, and zucchini and eggplant pasta that you can ask for off the menu, as a non-meat option. For dessert, we shared this warmed hazelnut bread thing which I was tempted to put into my bag.

I met my best traveling buddy, Diana Hong, for dinner, and we went to a local spot around the corner from our apartment, Bacaro. I got my weekly dose of their wheat spaghetti and clam sauce. My only complaint about this dish is that it doesn't come in a bucket size.

Tuesday, September 20
So, I'm obsessed with the hash browns at Trader Joe's. They can't be good for you, but every once in a while, whatever. I fried one up with an egg. It's even better than the McDonald's hash brown, which is a pretty high bar in my opinion. And of course, I panfry it.

For lunch, I decided to treat myself to the best fried chicken biscuit sandwich ever from Cheeky Sandwiches, where the biscuits are homemade and the chicken is fried on the spot. I'm not entirely off poultry, so it's fine. They have a bread pudding there that almost outshines the entire New Orleans–inspired menu. Din, the owner and chef, will warm it up for you and — wow.

I took the afternoon off to get the best Chinese massage in town: Esther at Fishion on Mott Street. She's 40 bucks and she's tamed my migraines to a distant memory. After, I went to relax at In Pursuit of Tea on Crosby Street for a hot cup of red tea. They know everything about teas. Thai iced green matcha tea is insane — I have a pregnant friend and I was like, Um, you probably shouldn't drink that. It's so pure and potent, but amazing!
Another DailyCandy business meal, so I decided to take everyone to Basta Pasta. I know it's old news, but I am obsessed with that place. If I'm not eating Asian food, it should be Italian food. We started with a plate of uni spaghetti, crab-meat-and-avocado salad with green apples and sliced radishes, and purple-yam gnocchi in a sage cream sauce. I also had the roasted Canadian trout. For dessert I went light, pear compote with Mascarpone gelato and chocolate sauce. Somehow I fit myself into a cab and went home.

Wednesday, September 21
The usual breakfast and then my stylists came over to get me ready for my first video shoot for DailyCandy! On air, they asked me crazy questions like who's my favorite character on Mad Men. I don't watch, so I said, "The redhead girl with the big boobs!" I don't have boobs, so I'm curious about her!

I went to midtown for lunch, since it's near the MTV studios. I met my good friend, David Yi, a writer at New York Daily News, to gossip. He's super Korean — even more than me. And where do two Koreans go to eat? KTOWN! I like Han Bat on 35th Street because it's not in the heart of KTown, which can be a little crazy. I had some brown rice and Kong Bi Gi, which is like a finely ground bean that's made into a thick soup with spices. Han Bat isn't like one of those third-floor places, where an elevator door opens and you're like "Um, no, never mind." But it is super cheap and super fast.
Back at the office, someone brought over doughnuts from the Doughnut Plant, which is right around the corner from my house. I think it's bad luck to pass up a crème brûlée doughnut from there. I heard that once.
Dinner was at my friend Kim's rooftop to talk to our good pal Tracy Motz, who is a badass motorcycle instructor and wants to start an all-girls certification course. We ordered in from Balade, an insane Middle Eastern restaurant that has an incredible range of these Mediterranean pizzas that are topped with hummus, falafel, and veggies. I know it's not Asian, or Italian, but I don't have a hard and fast rule about that stuff. I kinda think Mediterranean cultures are like the Asians of the Europe anyways — they eat everything fresh and with lots of seafood!