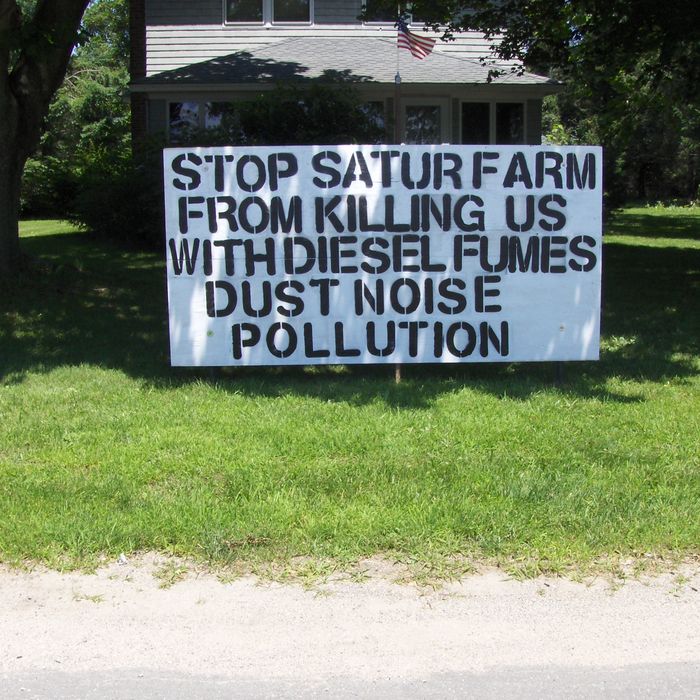 The sign that launched the lawsuit.
Photo: Jim McNamara
Former Lutèce and Bayard's chef Eberhard Müller and his wife Paulette Satur, who co-own Satur Farms, have long been at odds with their neighbors. And last month, the couple filed a $14 million defamation suit in New York State Supreme Court at Riverhead in response to an ongoing campaign by local residents the suit alleges is an effort to get the twenty-acre business in Cutchogue, Long Island, shut down. The back-and-forth between residents and the couple has been going on for some thirteen years since Satur Farms began operations, but the current legal fisticuffs were apparently precipitated when the defendants put up a since-removed sign opposite the farm's entrance stating: "Stop Satur Farms from Killing us with diesel fumes, dust, noise pollution."
One of the four defendants, Patricia McNamara, is quoted in the complaint as calling Müller a "fucking Nazi scumbag" in June of this year in the presence of Satur and a farm employee. The accused, who say they may bite back in a countersuit over "conditions" at Satur Farms, told us that Müller is no less a trash talker, contending he labeled defendant Joan Lademann a "fucking moron" when she told him two years ago that one of his trucks had backed into vacant property she owns. McNamara's husband, Jim, claims Müller dropped trou, mooned him, and said "take a picture of this" while Mr. McNamara was attempting to photograph large air-conditioned trucks that the defendants claim spew dust and exhaust when they rumble into the farm's dirt road.
Despite the sign mentioned above, the defendants deny they are trying to destroy the farm's business. "We're not malicious," insisted Lademann (whose husband John contends Satur Farms is mainly a "trucking business"). Even though they've taken down the signs, they have no intention of ending their complaints — "unless we're told to," said Jim McNamara, whose house is directly across from Satur Farms, and who says Satur has "destroyed" his family's life.
Paulette Satur tells Grub that the defendants have been complaining about the business "since the first day I arrived here." But the feuding apparently stepped up this year when, she claims, the defendants "began harassing our workers and using racial epithets against my husband and threatened to call immigration on one worker even though he's legal." She adds, "They've called the police on us many times, they've called the Department of Environmental Control, the Buildings Department and Farmland Preservation. But we are within our rights to farm here because we are in an agricultural zone. We have asked them to stop and they don't stop."
Another hearing on the case is scheduled for next week.