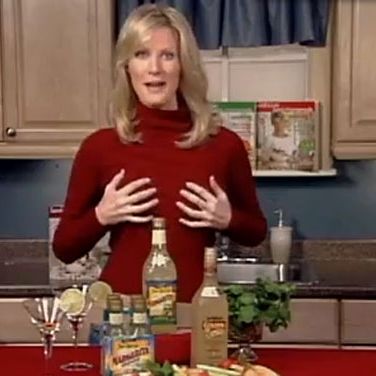 Caught red-handed!
Photo: Food Network/ http://www.youtube.com/watch?v=x-VNg9y4pB4
We'll be honest: We're still kind of getting over that Sandra Lee outtake video that leaked a few weeks back. (You know, the one where she's swearing a little and groping herself?) So when we bumped into her at last night's Us Weekly party honoring the 25 most stylish New Yorkers, we couldn't help but ask her about it. So, what's the deal?
"Well, that was friends and family only," she told us of the vid. "Now that I have a lot more responsibility and also I need to be more of a role model to even younger kids, because I am Aunt Sandy, I wish I would have handled that morning differently." So does that mean she's not like that at home? "I mean, I do have a sassy side," she said. "Just, for the little ones. You know, there's enough out there for them to watch, but I didn't want to add to the drama."
Ah, well, what can you do? We actually think the video is kind of charming!
Earlier: Watch a Swear-y Behind-the-Scenes Video of Sandra Lee