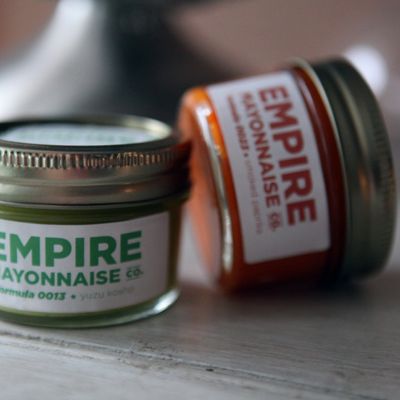 Coming soon to Prospect Heights.
Photo: Courtesy Empire Mayonnaise
Ambrose Bierce once quipped that in lieu of a state religion, the French have mayonnaise. To former Tailor toque Sam Mason, who's been selling his Empire Mayonnaise spreads at Smorgasburg for the past six months, this might seem like a perfectly reasonable option. Come November, Mason and business partner Elizabeth Valleau will open possibly the world's first shop dedicated entirely to high-end mayo, on Vanderbilt Avenue in Prospect Heights.
Empire Mayonnaise will be more of a lab than a store, Valleau tells Grub. Though they will sell products and hold events, the storefront is only a small portion of the shop — the rest is a giant refrigerator and testing lab. Empire will initially feature around 40 flavors, with Mason devising a new one each week; coffee, smoked paprika, foie gras, and mushroom are already on the menu. While it might seem precarious to open a molecular-gastronomy inspired condiment shop these days, Valleau assures us that New York is in the grips of a "condiment revolution," with room for growth; however, as of yet "nobody is coming in and owning the mayonnaise." Empire's Mayonnaise Shop will be open seven days a week, from noon to 8 p.m.
The Mayonnaise Shop, 564 Vanderbilt Ave., nr. Dean St., Prospect Heights