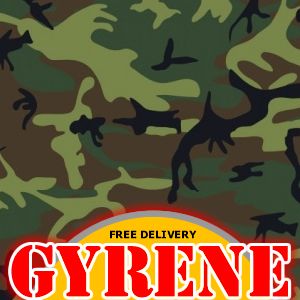 At ease, hamburger!
Photo: Courtesy Gyrene Burger
If ex–Top Chef contestant Fabio Viviani's soft-sell of the new "Artisan" Domino's pizza failed to convince you the fast-food chain is scaling new heights of freshness and quality, prepare to be scared straight by Gyrene Burger, a delivery- and pickup-only military-themed burger concept (seriously) set to launch sometime during the next few months in Naples, Florida, courtesy of 74-year-old Domino's founder Tom Monaghan.
According to Nation's Restaurant News, the new chain will sell only two kinds of hamburgers: "a classic with ketchup, mustard and pickle" and the politically charged Don't Ask Don't Tell burger deluxe, which has lettuce, tomato, and mayo.
That's not all: Gyrene employees will undergo training at "boot camp" (we can see the ad campaign now), be decked out in camouflage (to better blend in with their surroundings?), and jog at least part of the delivery route (i.e., across the parking lots to their cars). They'll also stand at attention and salute you after handing your order over. And that order will consist of burgers only. You want fries or onion rings? Tough shit, maggot! Gyrene Burger has no sides. What are you gonna do, go cry to mommy? Soft drink? No drinks. Hydration is for the weak!
For his part, Monaghan, who sold Domino's in 1998 in order to build the 1,000-acre Ave Maria University outside Naples, says, conservatively, "I'm not sure if this concept will work." A marine makes it work, Monaghan, you pathetic excuse for an executive.
Domino's founder to open military-themed burger concept [NRN]
Earlier: Watch Fabio Viviani Push Domino's 'Artisan' Pizzas