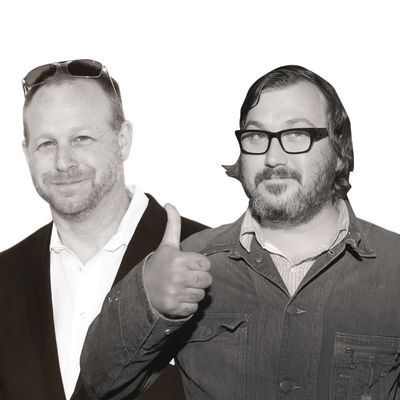 Portland chef Andy Ricker (left) is looking to expand eastward; Stumptown's Duane Sorenson has already conquered NYC.
Photo: PatrickMcMullan
New York for years has been the kind of place where people come to seek bigger opportunities in literary, artistic, and culinary realms. And yet, regarding that last one, something has been changing here lately — the city's recently acquired obsession with "sourcing" and a move toward casual dining — and that's made this town a whole lot more appealing to people from … Portland, Oregon. The Observer wrote recently about the similarities between Brooklyn and Portland, with the sort of twee, faux-hemian Americana scenes that each robustly fosters. There's some overlap with that world and the restaurant world, but even disregarding vegan cafés staffed by tattooed twentysomethings, New York and Portland have been edging more and more toward culinary common ground.
"There's definitely a kind of weird love affair going on between the two cities right now," say Matt Piacentini, an owner of both the Beagle in New York and Clyde Common in Portland. "I don't know if it's just the way the food scene in Portland started getting really serious these past few years," he speculates. As restaurants in Portland have gotten more serious, the food scene in New York has become a bit more casual, and more focused on local ingredients, and these factors have converged to create space within which somebody from a city like Portland can carve something out.
Take Stumptown Coffee, whose founder Duane Sorenson U-Hauled his way from Portland to Brooklyn in 2009 and splashed up the coffee scene with his single-farm-grown, varietal-I.D.'ed coffee (now peddled in a shop off the lobby of another Northwest import, the Ace Hotel).* In a story that ran several years ago in New York, the writer describes Sorenson's dismay with New York coffee upon his arrival (though, to be fair, there was already a contingent of artisanal roasters when Sorenson got to town). And yet, for Stumptown to have succeeded as resoundingly as it has, the city had to have already been moving toward a place where people were ready to care which Guatemalan finca their java hailed from, and what its flavor profile consisted of. (Grub Street's attempts to reach Sorenson for this story were unsuccessful.)
If all this makes you want to roll your eyes, declare that "sourcing" has gone too far, and cue up the scene in Portlandia where "Collin" the chicken's "papers" are presented for inspection to the overly earnest couple thinking about eating him, well, try to resist. As it happens, one of New York's most exciting recent imports, Matthew Lightner, the Food & Wine "Best New Chef" hailing from Castagna in Portland, is into local ingredients in a big way.
"What's very similar between Portland and New York right now is that back-to-basics [approach], where it's not so much about high-end cuisine," Lightner tells us. "You can go anywhere in the city and chefs are doing amazing things with artisanal products." During the two weeks since he arrived in NYC (he'll cook at Atera beginning this fall), the chef has spent most of his time visiting one farm or purveyor or another. "I'm exploring wild ingredients," he said. "Unique berries and herbs, almost this kind of lost heritage." And he's able to find that even in the vicinity of our concrete megalopolis: "There is a lot of farmland, between New Jersey, Pennsylvania, and Upstate New York. And if you go a little bit further you have Vermont." Lightner would even argue that New York is following a local-sourcing trajectory Portland went through maybe half a decade ago: "Getting products into the city, certain processors for certain types of meats is a bit challenging. Portland, five or six years ago, had similar problems."
Andy Ricker, the James Beard Award winning chef-owner of Pok Pok, a Thai street food restaurant in Portland, would agree that New York is behind in certain ways. "I don't know how the numbers add up," said Ricker, who's been scouting restaurant spaces for a Pok Pok he hopes to open in New York. "Portland food, since there are so many farms nearby, seems to revolve around these local ingredients that are not that expensive. I don't think that's true here."
And yet, as Piacentini says, an obsession with local food can go too far. "If we used an ingredient that wasn't local, people would freak out," he recalls of his Clyde Common days. "You'll see it: You go to a Japanese restaurant, a French restaurant, and a Chinese restaurant and they'll all have the same thing on the menu because there's only a few suppliers, and someone happens to have good ahi tuna right now."
Ricker reflects, "It's every cook's dream to open a restaurant, which you can do in Portland … Because you have a little room to breathe; you're not sweating the commerce thing 24/7." (Owing to said commerce thing, Ricker has pretty much written off opening a restaurant in Manhattan. "I'm looking around Red Hook pretty aggressively," he told us recently via e-mail.) And yet, if you do manage to open a restaurant, cooking in Portland "is not that challenging," Ricker says. Piacentini agrees, "It's sort of a small city. There's a lot of Asian, but there's not much stuff from around the world happening there. And: "There's certainly a height of cuisine that's just not reachable [in Portland]. You don't have places like Eleven Madison Park and Per Se; you just don't." Lightner stayed mum about how upscale Atera will be, but he did say, "[at Castagna,] we were one of the oddballs in Portland trying to do fine dining when everybody else was doing farm-to-table."
So, for the upper echelons of fine dining, Portland chefs come to New York. That might have been the only reason a Northwest chef would've moved here a number of years ago, but these days, they also come to open the sort of locally driven, predominantly casual restaurants they could just as easily operate in a small, rainy city out west. It's just that, in at least one sense, New York is very much the same as it's always been: The risks are greater here, and so are the potential rewards.
*This post has been corrected to show that the Ace Hotel originated in Seattle, not Portland.