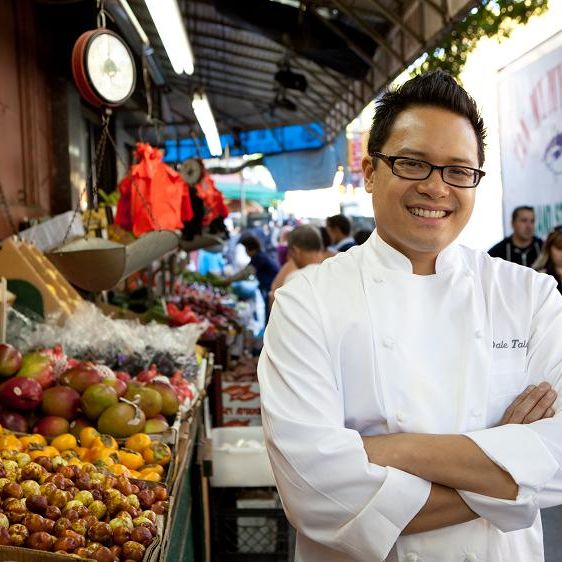 Talde's Dale Talde has his finger on two big fall trends.
The Times just dropped its giant fall preview package, and the trends of this openings season continue to take shape. Old Gray has more details on Kutscher's Tribeca (chef Mark Spangenthal will bravely take on gefilte fish) and another Tribeca newbie, upscale Korean spot Jung Sik. Speaking of Korean, we hope you like noodles! A number of large and small fall openings are of the Asian persuasion, including of course Talde, RedFarm, and Family Recipe, but also revealed today: Kimchi Grill, from the Kimchi Taco Truck guys, and Wong, from Simpson Wong of Cafe Asean; it seems Hakkasan, that upscale-Chinese London import, is still in the works for winter, despite losing its founder.
Of course, there's the ever-burgeoning Italian scene, with the previously announced Parm, Frankie's 570, Don Antonio, and Red Gravy, to name a few. Today we learn of a new Pino Luongo Tuscan spot, Morso Cafe; more on Neapolitan import Fratelli la Buffala, headed for the Upper West Side; and a Smorgasburg vendor going brick and mortar with the Clinton Hill pizzeria and grill Speedy Romeo.
In fact, naysayers take note, because Brooklyn figures big for fall. Talde, Red Gravy, Isa, and 606 R&D;, and Hillside (the Vinegar Hill House–adjacent wine bar f.k.a. Jaunty's) should make a splash in the borough, not to mention Breslin alum Ryan Jordan's Basik and the sure-to-be-hipper-than-hip Pillar & Plough, landing at Über-trendy Hotel Williamsburg. Better load up your MetroCard.
The Season's New Restaurants [NYT]
Related: Fall Preview '11 [NYM]